I'm looking for a good everyday backpack that is durable and has quite a bit of room. Currently I'm using this backpack that I received as a gift: http://www.mastodonrocks.com/files/merch/preview/detail_backpack.jpg
It's a great backpack in that it has the features I want- rucksack style loading, two small front pouches (about the size of a deck of cards) and one larger front pouch (about the size of a graphing calculator) but it's not very durable (it is just band merch, after all). It has almost no structure at all, and while I don't want something with an actual internal frame, I'd like something a bit more rigid.
I use the backpack mostly for taking my laptop to class and for weekend trips- the top flap is great for throwing a sleeping bag under.
asked Jul 27 '11 at 12:58
wilbus
1
---
Apple laptop and iPad users are quite fond of Tom Bihn bags. The primary focus is the secure storage and transport of computers. The secondary focus is functional bags for all sorts of activity. The Synapse backpack sounds like a pretty good fit for your requirements. I use the somewhat-larger Smart Alec pack. The even-larger Brain Bag was reviewed here in 2003 (although I'm sure the design has been updated a bunch of times since then). Their Ristretto bags are well-liked by folk for carrying tablets and Air-class laptop computers.
link
answered Jul 30 '11 at 08:43
floatingbones
136
For simple style, you can't beat the Jandd Tozi Kletter. Simple looks, burly cordura construction, attachment points, comfortable straps and well made. It has a traditional klettersack style, which means one main pocket and a top flap/pocket.
I did a review on my site here: http://robonza.blogspot.com/2011/01/review-jandd-tozi-kletter-backpack.html
For a combination of more business looks and more doo-dads. I have been carrying a Osprey Flapjack. It has a padded area for a laptop, dressier looks and more pockets for office life. I have been using this one for over a year and really like it.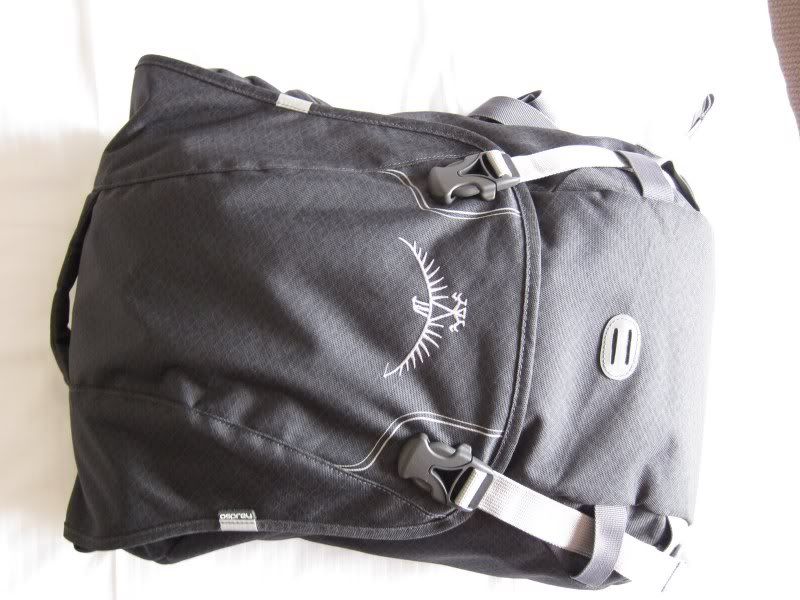 More photos and a detailed review here: http://robonza.blogspot.com/2010/07/review-osprey-flap-jack.html
-Joe
link
answered Aug 01 '11 at 12:20
xjoex
31
LA Police Gear 3 Day Backpack is by far the best SIMPLE backpack there is. Keyword here is SIMPLE. Lots of room and compression straps make it easy to pack a lot of stuff. MOLLE straps are a bonus for those who want to expand the use of the pack. Several colors to choose from and a price that is LESS than $30 make this a no brainer. I have used this bag on a daily basis for over a year now and it has done everything that I have asked it to. I had reservations with the pack prior to purchase because of the low price. I figured that it was cheap and not well made. That is the farthest thing from what I got. Well made pack, lots of space, quality materials, and nothing fancy. I am very hard on gear given the nature of my line of work, Tactical SWAT Medic, but this bag has been worth every penny!
link
answered Aug 01 '11 at 12:21
LL Bean's Deluxe Book Pack is as simple and solid as they come. It's got some pockets without having too many. I've had more than a few during the past 20 years, often carrying many heavy books and laptops. And not one of them has showed any signs of wear (including the straps, zippers and seams).
link
answered Aug 01 '11 at 12:28
GotMigs
1
I have to second LL Bean's backpacks. I know people who have gotten them in middle school, and now, in our 30s are still using them. LL Bean does honor their lifetime warranty, and has great customer service.
link
answered Aug 01 '11 at 13:01
Courtney Ostaff
121
Well, I'm surprised nobody has mentioned Maxpedition-made rucks and/or slingers. I am a big fan of Kodiak slinger.
What I like about Kodiak is that it fits up to 15" notebooks and can quickly be pulled up front so you can retrieve your stuff from pouches while still on the go. This allows you to sit down without removing the slinger as well as pull it up front for security reasons if you're in the crowded spaces where you don't want to keep your valuables behind your back where you can't keep an eye on them. They also have smaller slingers and a line of fanny-pack replacing Versipacks.
Quality and durability is top-notch, Maxpedition products will live thru abuse and neglect no problems. For most of the products they now have an option for bright (not military-looking) colours but even regular black/tan/foliage work very well for day to day use.
link
answered Aug 01 '11 at 15:25
stangri
31