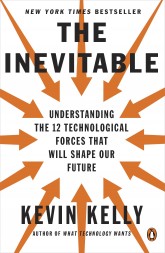 Current Passions
Year 2017
My newest book, The Inevitable, reached the New York Times bestseller list in 2016. This June (2017) it will be released in paperback. This book is about the deep trends over the next 20 years that will shape your life. I suggest we embrace these changes, including ubiquitous tracking, accessible artificial intelligence, constant sharing, getting paid to watch ads, VR in your home, etc. I am very excited by the book; I've been told it is my most readable work yet.
My current passion this year is all Asia. I am finishing up a huge, huge book of my documentary photographs of the disappearing traditions of Asia, between Turkey and Japan. I will try to get to the few remaining countries of Asia that I have not yet visited. The still-untitled book should be published in 2018.
Three years ago I published my first fiction, The Silver Cord. I worked on it for 11 years! At 464 oversized pages, this huge book was fan-funded, the result of a successful Kickstarter-funded campaign. It is now available on Amazon. The Silver Cord contains two volumes of an epic story about angels and robots and a girl hero who must save the humans in between. The craftsmanship of the printing, including a 6-page fold out, is stunning. It has to be seen to be believed. If you like the graphic novel let me know, and we'll do the next story.