Excellent Advice for Living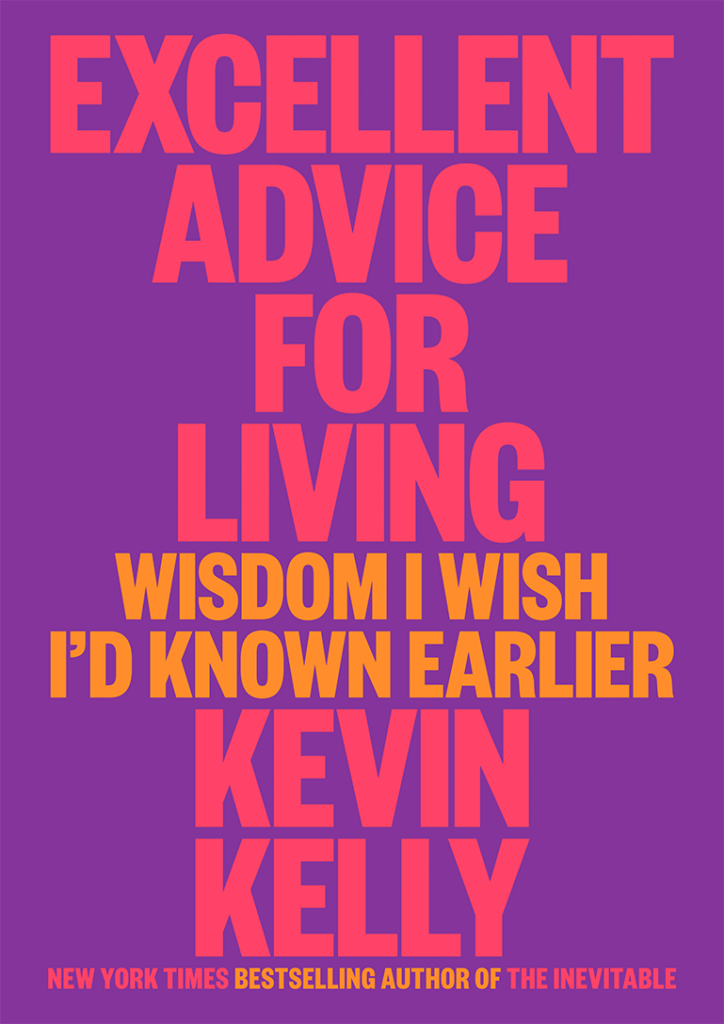 SUMMARY
Wise, practical, optimistic life advice from author and leading technology thinker Kevin Kelly

On his 68th birthday, Kevin Kelly began to write down for his young adult children some things he had learned about life that he wished he had known earlier. To his surprise, Kelly had more to say than he thought, and kept adding to the advice over the years, compiling a life's wisdom into these pages.

Kelly's timeless advice covers an astonishing range, from right living to setting ambitious goals, optimizing generosity, and cultivating compassion. He has wisdom for career, relationships, parenting, and finances, and gives guidance for practical matters ranging from travel to troubleshooting.

Excellent Advice for Living is aimed primarily at young people, but speaks to all ages. This is the ideal companion for anyone seeking to navigate life with grace and creativity.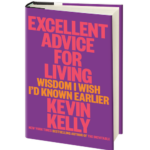 PRODUCT DETAILS
Hardcover | $26.00
Published by Viking
May 02, 2023 | 224 Pages | 5 x 7 | ISBN 9780593654521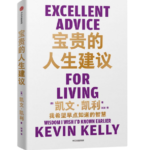 CHINESE EDITION
Paperback|RMB 69.00
Published by CITIC Press 
September 01, 2023|236 Pages | ISBN 9787521758634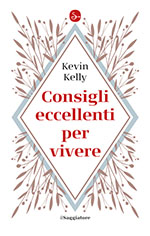 ITALIAN EDITION
Paperback|€15.00
Published by Il Saggiatore
October 10, 2023|224 Pages | ISBN 9788842832362
BLURBS
"Kevin's book 'Excellent Advice for Living' hit me at the right place and the right time. The book serves as a treasure trove of bite-sized wisdom offering readers an engaging and easily digestible guide to navigating life's ups and downs." –John Picciuto, The Wrong Advice Podcast
"Full of bangers. Extremely high insight and usefulness per page." –Rhys Lindmark, The Rhys Show
"I absolutely love this book, Excellent Advice for Living." —Hardeep Kaur, The Architecture of Contemplation
"This book is thought-provoking, evergreen, needed, fun, and most of all: might just make us better people." —Dan Riley, Keep Talking
"Of all the books on happiness, purpose, and wisdom that I have read (and authors I've hosted on my podcast) this is by far the best distillation of advice for living out there, and the wisdom comes in bite-size quotes for daily consumption, for we have to remind ourselves every day how to live." —Michael Shermer, Publisher Skeptic magazine, host of The Michael Shermer Show
"Kevin has distilled complex and important ideas into simple, actionable advice: a compelling antidote to thinkism." —Mark Bidwell, host of OutsideVoices with Mark Bidwell podcast
"Kevin gives excellent advice for creative living in this book, encouraging us to write to discover what we think. My favorite quote is: Only imperfect beings can make art because art begins in what is broken."
—Joanna Penn, The Creative Penn Podcast
"At once heartfelt, illuminating and wise, this evergreen guide to life from eternal optimist Kevin Kelly is also an act of beauty in its generosity of spirit, a gift to us all that is sure to stand the test of time." —Nina Kins, This is Beauty Podcast
"Excellent Advice for Living made me want to stop every few pages and find someone to discuss the things I had just read. It is densely packed with wisdom about things big and small the way that few books are!" —Liberty RPF, Liberty's Highlights
"It's the book you didn't know you needed, but now can't imagine not having read. Wise, practical, and relevant in a fresh way every day." —Todd Henry, Accidental Creative
"Everything I've achieved in my professional life I've done by standing on the shoulders of giants. Now, the inimitable Kevin Kelly has packed 71 years of timeless wisdom into his new book to help us not only be our best selves at work, but our best selves, period. I wish I'd read this when I was 21." —Steve Glaveski, Future Squared podcast
"Kevin Kelly's Excellent Advice for Living is an exceptional book that offers readers valuable insights and advice for leading a fulfilling life, drawn from his vast and extraordinary life experiences." —Srinivas Rao,
Host/Founder at The Unmistakable Creative Podcast
"This book distills everything that is great about a conversation with Kevin Kelly to its most elemental form." —Aaron Lammer, The Longform podcast
"An inspiring and helpful book, Excellent Advice for Living is a must-have for anyone looking for practical advice on life." —Sean DeLaney, What Got You There Podcast
"Kevin Kelly has managed to pack a lifetime's worth of well-earned, practical and thought-provoking advice into this short gem of a book. I'll be gifting it to friends for years to come and leaving copies around my house in the hopes that my kids may find it." —Greg Campion, Intentional Wisdom podcast
"We're fortunate that Kevin Kelly has taken the time to put so much of his wisdom and excellent advice in this amazing new book!" —Bill Burke, The Optimism Institute
"Like the Bible without the stories." —Cal Fussman, Big Questions podcast
"Kevin Kelly's new book, Excellent Advice for Living, is a must-read for anyone seeking guidance on how to live a fulfilling life. With parables and quotes that focus on what matters most, this book is like a compass that points readers in the right direction. Kelly's insights and wisdom cover a wide range of topics, including personal relationships, self-improvement, career, and financial success. In short, Excellent Advice for Living is an inspiring and practical guide to living your best life." —Morgane Michael, Author/Speaker/Podcaster/Educator
"Kevin's advice is so practical and so easy to remember, that I find myself incorporating the wisdom of his book into my daily life -and it works!." —Joe Byerly, From the Green Notebook Podcast
"Excellent Advice for Living is a thought-provoking book. Kevin Kelly offers a treasure trove of practical insights and timeless advice on a wide range of topics, including career, creativity, relationships, and spirituality. Whether you're just starting out in life or looking to make a fresh start, Excellent Advice for Living is a must-read guide to help you navigate the complexities of the modern world and find your own path to happiness and success." —Neha Anwar, The Neha Anwar Podcast
"A powerful collection of succinct teachings that offers insight into technology, leadership, family dinners, and everything in between. Reading it reminded me of reading Proverbs: the more you sit with each writing, the more you enjoy their depth." —Henry Kaestner, Faith Driven Entrepreneur
"Excellent Advice for Living is a treasure trove of insights that will transform the way you live, work, and relate to others, all wrapped up in easily digestible bites of wisdom to help you live a good life." —Jonathan Fields, Good Life Project

PRAISE
Advance praise for Excellent Advice for Living:

"The non-linearity of this list is part of its magic. And one hundred years from now, when so much of the nonsense of our age is forgotten, people will still remember Kevin Kelly and his wisdom." –Seth Godin

"If you don't find at least seventeen golden nuggets of advice from Kevin Kelly's list, you're not awake." –Daniel Pink

"Life essentials from a skilled navigator in an uncertain time." –Steve Silberman, author of Neurotribes
INTERVIEWS
Finding Your Path
Aspen Ideas, June 28, 2023
Excellent Advice for Living From the World's Leading Optimist
Reason podcast, June 28, 2023
Wisdom For Humans And Artificial Aliens
mansworldbangladesh.com, June 28, 2023
Radio New Zealand, June 26, 2023
Be Generous & Unique
Invest like the Best, June 26, 2023
Ask JBH #61: Kevin Kelly
Janice Bryant Howroyd, June 14, 2023
Kevin Kelly on Excellent Advice for Living, how optimists create the future, AI risk, and more
Warp Institute, June 5, 2023
#220 Kevin Kelly
Bigger than Us, June 5, 2023

203 – Kevin Kelly on Excellent Advice for Living, Playing with AI, and Staying Curious
Future Fossils with Michael Garfield, June 3, 2023
Kevin Kelly on excellent advice for living—and parenting
The Dad Mindset, June 2, 2023
Episode 34, Beautiful Voyager, May 27, 2023
Kevin Kelly: Be The Only One (YouTube)
Disrupt Everything, May 26, 2023
Wisdom for Our Future
Quantum Action, May 25, 2023
Building Blocks of Wisdom
Innovabuzz Podcast, May 25, 2023
#23 Excellent Advice for Living with Kevin Kelly
Don't Panic! We're All Going to Die, May, 25, 2023
The Power of Failure
Awkward Silences, May 24, 2023
The Robert Lane Creative Careers Podcast, May 17, 2023
Futurist, Author, Maker, Tech Advocate, and Radical Optimist, Kevin Kelly
The Person You Want to Be, May 16, 2023
Unveiling 'Excellent Advice for Living' and the AI Revolution
Kevin Lockett Podcast, May 16, 2023
The BoldBrush Show, Episode 38, May 16, 2023
WGN News, May 12, 2023
Life Lessons From Wired Co-Founder Kevin Kelly
The Next Big Idea, May 11, 2023
Shaping the Future with the Power of Optimism
The Vance Crowe Podcast, May 10, 2023
The Journey to Radical Optimism: Insights on Family, Personal Branding, and Future Technology with Kevin Kelly
Stretch Four Podcast, May 9, 2023
ChatGPT as Universal Intern and Permission Not to Be a Billionaire with Kevin Kelly
Pivot with Jenny Blake, May 7, 2023
Kevin Kelly, Your Wisdom Coach
Big Questions with Cal Fussman, May 7, 2023
Ep 87: Kevin Kelly- Wisdom I Wish I'd Known Earlier
From the Green Notebook, May 6, 2023
Kevin Kelly on Excellent Advice for Living
The Neha Anwar Podcast, May 5, 2023
Kevin Kelly on Excellent Advice for Living, Wisdom, Mortality, Beauty, and the Future of A.I.'s
This is Beauty, May 4, 2023
Wisdom You'll Wish You'd Known Earlier
The James Altucher Show, May 4, 2023
The Rise of Artificial Intelligence: How to AI Will Enhance Human Creativity
The Chase Jarvis LIVE Show, May 3, 2023
Ep. 65. Technological Optimism And The Future: Kevin Kelly With Excellent Advice For Living
Bounce! Conversations with Larry Weeks, May 3, 2023
Excellent Advice for Living with Kevin Kelly
Rule Breaker Investing, May 3, 2023
Evolving w/ The Technium
Bitcoin Fundamentals, May 3, 2023
532: Kevin Kelly
Longform Podcast, May 3, 2023
Kevin Kelly: Excellent Advice for Living, the Future, AI, Psychedelics
Remo Uherek Podcast, May 2, 2023
Kevin Kelly: The Wisdom I Wish I'd Known Earlier
Commonwealth Club of California, May 2, 2023
WIRED's Founding Editor: Wisdom He Wish He Knew With Kevin Kelly
Faith Driven Entrepreneur, May 2, 2023
Kevin Kelly on Advice, Travel, and Tech (Ep. 178)
Conversations with Tyler, May 2, 2023
Kevin Kelly: Raising the Bar – Excellent Advice, AI's for Better Living
Outside Lens, May 2, 2023
Kevin Kelly on How to Become Improbable Versions of Ourselves
Keen On, May 2, 2023
TKC 708 Kevin Kelly
The Kindle Chronicles, May 2, 2023
Excellent ADVICE To OPTIMIZE YOUR LIFE (YouTube)
Rich Roll Podcast, May 1, 2023
Excellent Advice For Living With Kevin Kelly
The Creative Penn, May 1, 2023
AI and Excellent Advice for Living | Kevin Kelly
Good Life Project, April 30, 2023
Kevin Kelly Podcast- Leveraging AI, Wisdom I Wish I'd Known Sooner & Limitless Creativity
What Got You There, April 29, 2023
From Wired to Wisdom – Excellent Advice for Living
Future Squared, April 27, 2023
Kevin Kelly on Excellent Advice for Living, Universal AI Assistants, Time Machines, and The Power of Fully Becoming Yourself (#669)
The Tim Ferriss Show, April 26, 2023
Kevin Kelly on his New Book and his Long-Held Belief That, "Over the Long Term, the Future is Decided by Optimists.
The Optimism Institute, April 26, 2023
Kevin Kelly: Excellent Advice for Living
Liberty's Highlights, April 24, 2023
Everyday wisdom from Wired magazine founder Kevin Kelly
Game Thinking TV, April 20, 2023
Do Something That Looks Nothing Like Success with Kevin Kelly
The Best Advice Show, April 18, 2023
Ep.18 – Kevin Kelly – Timeless Advice from One of Technology's Leading Minds
Intentional Wisdom with Greg Campion, April 11, 2023
Kevin Kelly: The Evergreen Optimist
Danielle Newnham Podcast, April 6, 2023
Generative AI and life advice for the future with Kevin Kelly
The Future, This Week, April 5, 2023
Excellent Advice for Living
33Voice, April 2023
Episode 75: Kevin Kelly – Excellent Advice for Living
Keep Talking Podcast, March 31, 2023
CC: Kevin Kelly | Packager-of-Ideas
The Architecture of Contemplation, March 29, 2023
Kevin Kelly on Advice, AI, and Technology
EconTalk Podcast, March 27, 2023
Episode 124: Kevin Kelly
The Wrong Advice Podcast, March 26, 2023
ChatGPT, OpenAI, and Excellent Advice for Living
The Michael Shermer Show, March 18, 2023
Soul-Share with Optimistic Futurist, Kevin Kelly
The Positive Head Podcast, March 15, 2023
Excellent Advice for Living (With Kevin Kelly)
KindSight 101, March 13, 2023
REVIEWS
The Marginalian. July 29, 2023
I'm 71 — these are my 22 'useful' life lessons for Gen Z
New York Post, July 1, 2023
A collection of inspiring insights from a wise technology writer
Kirkus Reviews, February 3, 2023
Excellent Advice for Living: Wisdom I Wish I'd Known Earlier
Publisher's Weekly, January 18, 2023
MENTIONS
71-year-old shares the 22 'most useful' life lessons for young people—'how much to tip' and handling 'rude people', CNBC, June 15, 2023
The 26 best books to read this Summer, nexxworks
Video review
David Perell, May 2, 2023
AI as intern
Austin Kleon, March 22, 2023