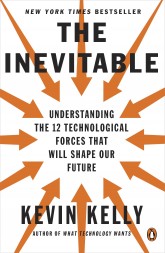 Current Passions
Year 2019
My title is Senior Maverick for Wired, a magazine I helped co-found 25 years ago. I do one article for Wired per year. My most recent article is a cover story about augmented reality called Mirrorworld. It describes what I believe will be what happens after the web and smart phones. My other published writings are listed here, in chronological order.
This is the 25th anniversary of my first book, Out of Control. It is about decentralized systems, emergent order, cryptocurrency, evolutionary design, robots and AI  — 25 years ago! Despite two decades of fast moving technology, it still reads like news. So in celebration of its 25 years, I have been tweeting one insight per day from the book. I tweet several times a week about other things under @kevin2kelly. On Facebook, I am the laughing Kevin Kelly.
About three years ago I started a weekly newsletter, called Recomendo. Together with Mark Frauenfelder, of Boing Boing fame, and Claudia Dawson, our webmaster and my assistant, we give 6 very short recommendations each week. We briefly share in one page the great stuff we are watching, listening to, reading, cool tools we are enjoying, or great destinations we recommend. Recomendo now has 25,000 subscribers. Last Christmas we rounded up our best recommendations and produced a book — a physical book — with 500 plus suggestions. It is available on Amazon for less than $10. It was such a hit we also made a PDF version which you can download.
I'm trying to finish visiting all the countries in Asia in order to document their disappearing traditions. From these I am compiling a photo book about the disappearing cultures of Asia, called Vanishing Asia. To be published a few years from now.
Six years ago I published my first fiction, The Silver Cord. I worked on it for 11 years! At 464 oversized pages, this huge book was fan-funded, the result of a successful Kickstarter-funded campaign. It is now available on Amazon. The Silver Cord contains two volumes of an epic story about angels and robots and a girl hero who must save the humans in between. The craftsmanship of the printing, including a 6-page fold out, is stunning. It has to be seen to be believed.