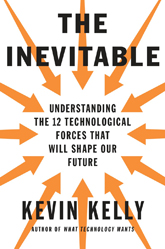 Current Passions
Year 2015
I handed in the final draft to my new book from Penguin: The Inevitable. This new book is about the unavoidable trends in the next 20 years such as ubiquitous tracking, accessible artificial intelligence, constant sharing, deep filtering, etc. It is sort of a follow-up to my last big-idea book, What Technology Wants (2010). It will be published June 6, 2016.
Two years ago I published my first fiction, The Silver Cord. I've been working on it for 11 years! At 464 oversized pages, this huge book was fan-funded, the result of a successful Kickstarter-funded campaign. It is now available on Amazon. The Silver Cord contains two volumes of an epic story about angels and robots and a girl hero who must save the humans in between. The craftsmanship of the printing, including a 6-page fold out, is stunning. It has to be seen to be believed. If you like the graphic novel let me know, and we'll do the next story.
Starting a year ago, every weekday Carla Sinclair, Mark Frauenfelder and I review an unusual book that belongs on paper.
News