Making the Inevitable Obvious
Sunsets on Mars are blue. Link.
I too laugh. " 'Once we build a generally intelligent system, basically we will ask [OpenAI] to figure out a way to make an investment return for you.'" When the crowd erupted with laughter Sam Altman himself offered that it sounds like an episode of "Silicon Valley." Link.
I've long written about extensions to classical evolution theory, or revolutions in evolution. The biggest challenge is to describe how natural variations are created to be selected. There is a new good name for this view, called the Extended Evolutionary Synthesis (EES), and a well-written introductory article about it.
"The killer app for having the internet in your pocket was, well, having the internet in your pocket."
I stopped eating mammals 15 years ago. I find the Impossible burger's vegetarian meat to be delicious, and with that old burger taste that I do miss. I did not know it was also GMO food, which I think is great. A good article on the company behind the clean meat. Link.
Human composting. I'm all for it once I'm dead. Now legal in Washington state. Link.
"Why do so many Egyptian statues have broken noses?" Long answer in this article. Link
Academic paper on the difficult proposition of introducing AI into the "kill chain," meaning giving machines the ability to decide to kill, or in other words, weaponizing AI. No answers, just a framework to discuss it. Link.
This is a fun online comic (from Google) which explains the idea of "federated learning" — part of a solution for privacy. It's way to share the advantages of aggregated data without aggregating the data, only aggregating the results. Cool.
This is true for me: Walking is the key to productivity. Link.
Backing up civilization on Earth by making copies of important texts and sending them into space, or depositing them on the Moon. It seems trivial, but if done iteratively, might be useful. Here is the account of putting the current "back up"on the Moon. What gets backed up, is a question worth asking, and working on. Link.
This long book review of 3 books about vaccines and the culture around them helped me understand the current unsettling avoidance of vaccines by some.
Introducing risk-aversion (sometimes called fear) into AIs who are learning how to drive can accelerate their learning. Link.
Number of births in the US is the lowest in 32 years, and the US fertility rate is near a historic low for the US of 1.763. Link.
"Cardboard is the gateway drug to making," says Adam Savage. It's versatile, free. Well, here is some massive art-making with tons of cardboard. Link.
The always insightful AI expert Rodney Brooks, inventor of the Roomba, says general artificial intelligence is probably a century away, and autonomous cars at least 30-50 years away. Link.
Most flying car prototypes to date have used multiple horizontal spinning blades — like a larger drone. Lilium is a new design, with wings, but without the other controlling surfaces on a plane. Novel 5-person taxi. Link.
Here is a thought experiment. I give you a ride in a time machine. It has only one lever. You can choose to go forward in time, or backwards. All trips are one-way. Whenever you arrive, you arrive as a newborn baby.  Where you land is random, and so are your parents. You might be born rich or poor, male or female, dark or light, healthy or sick, wanted or unwanted.
Your only choice is whether you choose to be thrust forward in time, spending your new life in some random future in some random place, or thrust into the past, in some random time and random place. I have not met anyone yet who would point the lever to the past. (If you would, leave a comment why.) Even if we constrained the time machine to jump mere decades away, everyone points it to the future. For while we can certainly select certain places, certain eras in the past that seem attractive, their attractiveness disappears if we arrive as a servant, a slave, an outcast ethnicity, or even as a farmer during a drought, or during never-ending raiding and wars.
The only argument I've heard for choosing the past is that the downsides are known; you have a randomized chance of being a slave, or the fourth wife, or a Roman miner, while the downsides of some future date are unknown and could possibly be worse. Perhaps there is no civilization at all in 500 years, and you therefore arrive in a toxic wasteland, or all humans are enslaved to robots. In this calculus the known horror is preferred to unknown horrors. The likelihood of self-eradication seems to some people, at this point in time, to increase the further out in history we might go. Five thousand years in the future may be as unappealing a destination to some as five thousand years in the past.
But since this is random placement, there is still a higher chance you'd get a bearable life in the future, even if you were at the bottom of that society, than you'd randomly for sure get in the past. If we have any sense of what the past was really like, we intuitively know that today is much better than the past. This difference is probable (not guaranteed) to be true of a future date; it is highly likely no one born in 2070 would want to be born in 2020.
The denial of progress is directly linked to ignorance of the past. There are romantic notions of the past that are not based on evidence; some of these lovely visions of the past are not untrue; it's just that they are select, rare, privileged slivers that disregard the actual state of most humans for most times in most places, which any serious inquiry into global history will reveal. Today there is still huge discrepancy between the well-off of the world and the bulk mass of most humans in most places. But the point of the time machine thought experiment is that virtually everyone would rather be at the bottom today than at the bottom 200+ years ago. Indeed, those most eager to point their time machine ride into the future are those who have the least today, which is the bulk, or most of humanity. We would rather inhabit a random future role than a random past role because progress (on average) is real.
Second thoughts on sunscreen toxicity. Link.
The verification paradox: the best perceiving machines (AI) may not be verifiable by humans; but the most "trustworthy" algos may not be the best. Good intro: Link.
This is very true: "Science Fiction Doesn't Have to Be Dystopian." Title of a long book review in the New Yorker by Joyce Carol Oates of new Ted Chiang short stories. Link.
I don't worry about much, but I do worry about cyberwar because 1) we have no consensus on what is permitted, 2) it is hard to track, and 3) it can spill into the real world. Link.
Writers are more and more relying on paid newsletters for income. They find 1,000 true fans and get them to pay for their writing. Good intro to this emerging genre. Link.
Breaking up Facebook (into what?) will not remedy the issues of overuse, nor fake news, nor extremist views, nor privacy. Breakup is a romantic fantasy. Study the long history of anti-trust and AT&T, beginning in 1913. For that I am reading "The Fall of Telecom" by Thomas Lauria.
This account of a tech demo that failed is a pretty good update on the business aspect of the coming Mirrorworld. Link.
Big, long-term, many-decade projects are out of fashion now. One exception is China's Belt and Road initiative. Here is a site that tracks it's progress. Link.
With a contrary view, this article argues that China's Belt and Road Initiative is One Big Mistake. It is merely atmospheric handwaving, a pretty name for regional states to keep the state-owned industries and construction complex going by building infrastructure further from home. Link.
While there are many ways Asian cultures differ from the West, the truth is that they have much more in common that they do have in difference.
However there are two characteristics in Asian culture today that hinder the innovation spirit. These two traits are loosely but widely held. They are held by the society at large, and they are self-reinforcing by the society, but — evidence shows — are in no way genetic, or rooted in individuals. Those two traits are: embracing failure, and questioning authority.
In most traditional Asian cultures, the good of the group is elevated. Failure by one person disgraces the whole group, and questioning authority undermines its integrity. Yet, embracing failure and questioning authority about "what everyone knows" is a key attribute for innovation. The relative lack of these qualities in Asian societies is one reason it is not as fast in developing breakthrough inventions compared to cultures that do. However, the evidence shows that when hundreds of thousands of Asians migrate from their homeland to a different culture, they can very quickly adopt these two traits to become the most innovative people in the world. Some very high percentage of successful startups in Silicon Valley were founded by Asians coming directly from traditional Asian cultures. This suggests that these traits are fairly malleable, and that it does not take much to alter in place. I can easily image Asian cultures in the future becoming beacons for innovation, by embracing failure and adopting challenges to authority.
Indeed this is already happening. While innovation centers like Silicon Valley tend to dismiss the innovation capabilities of regions like China and India, the west is somewhat blind to the speed at which these cultures are changing. In Asia there is a collective and individual desire to be more innovative, and there is also a wide-awake realization that the two missing qualities need to be addressed. And so they are being addressed through education, government policy, and new company culture. The results are that a first order innovation is spreading in Asia. This is sometimes referred to as incremental innovation: a long chain of continuous improvements. Japan, Korea and China are the world leaders in the excellence of manufacturing. Nobody makes things at scale as well as they do, and this was achieved through many innovations in the manufacturing methods. They choose to innovate machine excellence and they did.
The second order innovation — the breakthrough — does not happen as often in Asia, but it will very soon. In the 1800s America was derided by Europe as the land of pirates, thiefs, copycats, counterfeiters, and dumb imitators — and it was. Americans stole technological know-how, IP, and anything that could be copied (like Charles Dicken's novels) wholesale in order to jump-start their own culture and industries. There was a very long tradition of this. First the student copies the master to perfection, and then the student becomes a master that others can copy. Asia has been doing the same as a student. But it is quickly becoming a master of technology, and it will begin to create masterpieces and deep innovation.
It is important to recognize that these two qualities of embracing failure and questioning authority are not the only qualities needed for innovation. Creativity, hard work, empathy, endurance, and many others are required. But these latter qualities are already widely shared in Asia, and the former two are relatively sparse — but becoming more common. I fully expect to see a major technological advance come out of China in the next 10 years that will wow the world, and lead to something that everyone in the world wants.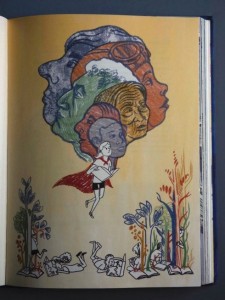 I wrote this small essay for Maria Popova's anthology The Velocity of Being: Letters to a Young Reader.  This book is a collection of letters paired with art, words by writers matched with art by artists. The intent is to encourage kids to read.  My piece follows:
Imagine you can choose your own superpower. You get to pick one of these three: flying, invisibility, or being able to read. Which one do you choose? Flying is not so useful without other superpowers; invisibility is okay for being naughty or for a little fun but not good for much else. But if you could read, especially if you were the only one who could read … you'd be the most powerful person on Earth. You would be able to tap into all the wisdom of the smartest people who ever lived on the planet. Their knowledge would go from their heads  through squiggles on paper through your eyes right into your head. You would learn things from them that no ordinary mortal would ever have enough time to learn by themselves. You would kind of be as smart as everybody in total. In fact the best ideas and knowledge from geniuses long dead would be in your mind. Not that you have to remember it all. Any time you want you can use your superpower of reading to find the exact information you need using the lookup method.
Reading is a superpower that also gives you a type of teleportation. It can transport your mind to a different place than where your body is. The feeling of being immersed in a different place, or even a different time period, can be so strong you may not want to leave.
When you have this superpower you can see the world from the viewpoint of someone else. You see the outside through their eyes. This is an amazing power that allows you to get more things done with others, with less violence and sorrow. It also helps protect you from the mistakes and untruths of others as well as your own ignorance.
In the real world of course, you would not be the only person with this superpower. Many other people acquire this power. This doesn't diminish your power, it actually increases it. Because others can read, they can write, which increases the number of living minds you can connect your mind with. With the power of reading today you can connect with billions of other minds, in almost real time. Their minds can be funneled from anywhere on the globe right to your mind.
More and more of our society is centered on pictures and images, which is a beautiful thing. But some of the most important parts of life are not visible in pictures. Ideas, insights, logic, reason, mathematics, intelligence. These can't be drawn, photographed, or pictured. They have to be conveyed in words, arranged in a orderly string, and can only be understood by those who have acquired the superpower of reading.
This superpower is always with you; it will never leave you. But like all superpowers, it increases the more you use it. The more you write, the better you read; the more you read, the better you write. It does not matter where you read, whether on bits of paper, or on a screen. It does not matter where you write, whether on bits of paper or on a screen.  Someday in the future there will be new machines and even newer ways to read and write. This is a superpower that will only increase in value and power as time progresses. At any time, it beats any other superpower you can name.
[The art that my text was paired with, shown above, is by Andrea Tsurumi.]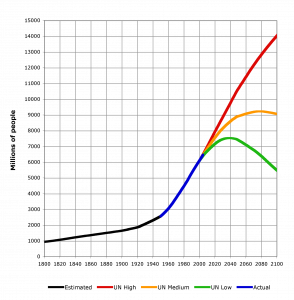 For many years overpopulation was the Ur-worry. The prospect of too many people on a finite planet stood behind common environmental worries from pollution to global warming. Significant numbers of educated couples skipped having children at all, or no more than one child, so they would do their part in preventing overpopulation. In China, having a single child was a forced decision.
While the global population of humans will continue to rise for at least another 40 years, demographic trends in full force today make it clear that a much bigger existential threat lies in global underpopulation.
That worry seem preposterous at first. We've all seen the official graph of expected human population growth. A steady rising curve swells past us now at 7 billion and peaks out about 2050. The tally at the expected peak continues to be downgraded by experts; currently UN demographers predict 9.2 billion at the top. The peak may off by a billion or so, but in broad sweep the chart is correct.
But curiously, the charts never show what happens on the other side of the peak. The second half is so often missing that no one even asks for it any longer. It may be because it is pretty scary news. The untold story of the hidden half of the chart is that it projects a steady downward plunge toward fewer and fewer people on the planet each year — and no agreement on how close to zero it can go. In fact there is much more agreement about the peak, than about how few people there will be on the planet in a 100 years.
A lower global population is something that many folks would celebrate. The reason it is scary is that the low will keep getting lower. All around the world the fertility rate is dropping below replacement level country by country so that globally there will soon be an un-sustaining population. With negative population growth each generation produces fewer offspring, who producer fewer still, till there are none. Right now Japan's population is way below replacement level; indeed Japan is losing total population; every year there are fewer and fewer Japanese. Most of Europe, Eastern Europe, Russia, the Former Soviet Republics, and some Asia countries are running below replacement levels. It goes further than Japan. Today Germany and Ukraine have absolute population decline; they are already experiencing the underpopulation bomb.
The shocking news is that the developing world is not far behind. This is not the stereotypical image. While developing countries are above replacement level, their birthrates are dropping fast. Much of Africa, South America, the Mid-East and Iran have fertility rates that are dropping fast. The drop in fertility in has recently stalled in some sub-Saharan African nations but that is because development there has stalled. When development resumes, fertility will drop again — because fertility rates are linked to urbanity. There is a deep feedback cycle: the more technologically developed a society becomes, the fewer offspring couples will have, the easier it is for them to raise their living standards, the more that progress lowers their desire for large families. The result is the spiral of modern technological population decline — a new but now universal pattern.
All that it would take to break this downward spiral is that many women living in cities all around the world decide to have more than 2 children in order to raise the average fertility level to 2.1 children. That means substantial numbers of couples would have to have 3 or 4 children in urban areas to make up for those with none or only one. It is possible it could become fashionable to have 4 kids in the city. The problem is that these larger families are not happening anywhere where the population has become urban, and urbanity is now the majority mode of the population and  becoming moreso. Every developed country on the planet is experiencing falling birth rates. The one exception has been the US because of its heavy immigration, primarily because of catholic Hispanic immigrants, but even that is changing. The most recent report shows that the birth rates of hispanic immigrants in the US is dropping faster than ever. Soon the US will be on par with the rest of the world with plunging birth rates.
To counter this scary population implosion Japan, Russia, Australia pay bonuses for newborns. Singapore (with the lowest fertility rate in the world) will pay couples $5,000 for a first child and up to $18,000 for a third child — but to no avail; Singapore's rate is less than 1 child per woman. In the past drastic remedies for reducing fertility rates were hard, but they worked. Drastic remedies for increasing fertility don't seem to work so far.
Our global population is aging. The moment of peak youth on this planet (measured as the average age of humans on the planet) was in 1972. Ever since then the average age on Earth has been getting older each year, and there is no end in sight for the aging of the world for the next several hundred years! The world will need the young to work and pay taxes for medical care of the previous generation, but the young will be in short supply. Mexico is aging faster than the US, so all those young migrant workers that seem to be a problem now will soon be in demand back at home. In fact after the peak, individual countries will race against each other to import workers, modifying immigration policies, but these individual successes won't affect the global picture.
The picture for the latter half of this century will look like this: Increasing technology, cool stuff that extends human life; more older people who live longer, millions of robots, but few young people. Another way to look at the human population in 100 years from now is that we'll have the same number of over 60-year olds, but several billion fewer youth.
We have no experience throughout human history with declining population and rising progress (including during the Black Plague years). Some modern countries with recent population decline have experienced an initial rise in GDP because there are fewer "capitas" in the calculation made per capita, but this masks long-term diminishment. But there can always be a first time! We might be able to figure it out. Here is the challenge: this is a world where every year there is a smaller audience than the year before, a smaller market for your goods or services, fewer workers to choose from, and a ballooning elder population that must be cared for. We've never seen this in modern times; our progress has always paralleled rising populations, bigger audiences, larger markets and bigger pools of workers. It is hard to see how a declining yet aging population functions as an engine for increasing the standard of living every year. To do so would require a completely different economic system, one that we are not prepared for at all right now.
The challenges of a peak human population are real, but we know what we have to do; the challenges of a dwindling human population tending toward zero in a developed world are scarier because we've never been there before.  It's something to worry about.
Chasing a tornado with a drone is a brilliant move. There will be more attempts like this amazing 4-min video footage. Link.
"The ear is like a biological equivalent of a USB port. It is unparalleled not only as a point for "writing" to the brain, but also for "reading" from the brain," says Crum. Link.
Return of the nearly extinct mighty American Chestnut, once the major bulk of eastern forests. Link.
Twistronics: superconducting sheets of graphene twisted out of phase. Link.
Drowning doesn't look like drowning. "When someone is drowning there is very little splashing, and no waving or yelling or calling for help of any kind." Know the real signs: Link.
There is a need for an anti-Crispr technology, to turn off, or deflect, or to brake the gene drive in Crispr. This article summaries recent work on anti-Crispr. Link.
I wrote a blurb for Trey Ratcliff's self-published book about fake influencers, Under the Influence. Here is what I wrote: You can often learn how something works by how it breaks. The thing I really like about your book is way you shine x-ray beams into a broken system and thereby illuminates how it works. Once one understands how the system works, the reader can then optimize it for good. While you educate us on how to fake influence, your book is really about how to create genuine positive influence — and why it is more powerful and sustainable. I hope anyone who has a following online, or hopes to have a following, reads this and take the lessons to heart. Sure, you can use this very explicit information to hack the system and try to fake influence, but the point is, fake influence is not influential! At best shortcuts have superficial short-term reward, and most times, they yield no rewards. This is also a tremendous resource for those who employ influencers because it gives you different smell tests to discern the genuine from the imposters, protecting your own reputation and money. I'd go so far to say the discernment and media skills entailed in this book should be a required literacy in every high schooler's education. You've heard of critical media skills? This is critical influencing skills.
There is no absolutely infallible way to detect a lie in the present. We can only reliably detect lies retrospectively, in the frame of history. So the only way to not be deceived in the present is to rely on sources that have been proven true in the past. The more truthful a source has been in the past, the more reliable (on average) they are in the present. Therefore the only method for detecting fakes in the present is to depend a source we trust over time. This method is not infallible (see first point) but it is the best we have.
This type of trust applies to text and images. There is no way to detect a lie by simply looking at words in a sentence; they may or may not be what was actually said, or they could be altered. You can't tell by looking. There is no way to detect a lie in a photograph or video simply by looking at it either; it may or may not have been photoshopped or altered, or generated by AI. We must ultimate trust the source that distributes them. That kind of hard-earned trust can be easily damaged. Sometimes individual people with long histories can be trusted. More often we trust institutions with long histories and many individuals, such as some government agencies, science associations, journalistic companies, non-profits, and sometimes corporations. We tend to trust them — until they are caught lying. When this happens it's a blow to our sense of security, because there is no absolutely infallible way to detect a lie in the present on our own.
With 5-year plans for hacking and cyber-spying, the Chinese are taking the long view, says FBI chief. Link.
How movie directors are using virtual production methods, like in the new Lion King reboot. The make a VR world first, then film a crude version inside it to watch the movie before they really film it. Link.
The ultimate marble-machine music box. Just because. Video Link.
"By bringing chip-design in-house, Tesla has leapfrogged the automotive industry by four years," says ARK Invest. Link.
Some comic artists want to ban the raw punk comics of R. Crumb, once banned by cops and old folks. Link.
Delta-V is the latest novel by Daniel Suarez. It's a science fiction thriller revolving around asteroid mining. Suarez does a magician's job of describing the science. And I was thrilled by the story. Link.
Yes, you can easily fool an perceptual AI with unexpected visuals, which acts like a sort of camouflage. But adversarial camouflage for AI watchers will work only once. In theory, AI eyes could share what they learn quickly among each instance with eyes and so the deceit will only be temporary. Link.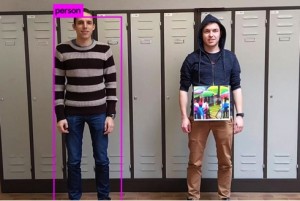 Back to Top