The Long Now Foundation holds monthly seminars on long-term thinking which are open to the public. I filter the questions for the speakers at the event, and the questions and the talks are usually pretty good. Upcoming speakers include Paul Romer, economist, and Michael Pollan, of "eat a little" fame.
While its other work may not be very visible, the Long Now Foundation is more than just talk. There's a bunch of projects that Long Now has launched. Behind the scenes a very large, very-long term clock is being built. A team led by Danny Hillis, who designed the clock, are currently constructing the third version of a clock designed to run for 10,000 years. This one will be momumental in size and will live inside a mountain.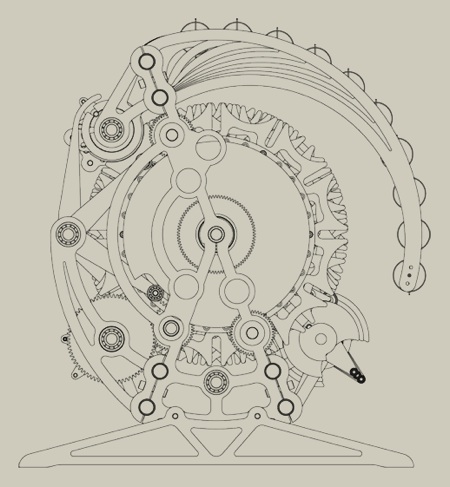 Here is a schematic for the chimes mechanism. This will produce a never-repeating set of "rings" or melodies for 10,000 years. In case you were counting, that is 3.5 billion different tunes. This generative music was conceived by musician Brian Eno. 
To give you a sense of the scale of this clock, here are the Geneva gears (hidden in the back of the drawing) of the chimes being assembled for the first time. This time lapse captures 3 days. Alexander Rose, engineer on the clock and Long Now's director says "note the spiffy 'trilobe' gears; these triangular gears help flatten out the speed and torque curve of driving the mechanism. This version is made of steel, aluminum, and even wood while we sort out the engineering and scaling issues. The next versions will be ceramic, stone, and stainless steel."
Now imagine 30 stacks of these gears rising  a hundred feet vertical in a hollow cave inside a mountain. The chimes will ring as long as pilgrims come to wind the clock. 
The purpose of the clock, and the seminars (which are free), is to encourage long-term thinking. If you want to join this movement, join us at the Long Now Foundation.