…both tangible and intangible, adhere to the law of inverted pricing and become cheaper as they improve.
While it is true that automobiles will never be free, the cost per mile of driving will dip toward the free. It is the function (moving the body) per dollar that continues to drop. This distinction is important. Because while the function costs head toward zero, the expenditure share can remain steady, or even balloon. With cheaper costs we travel more, way more. With cheaper computation we consume billions of more calculations. Yet for vendors to make a profit, they must anticipate this cheapening per unit.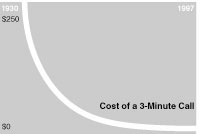 Gilder's Law says that the cost per communication bit will begin to sink farther than it has fallen previously. Eventually the cost of a telephone call, or of a bit transmitted, will be "free."
Let's take communications. All-you-can-use plain old telephone service with no frills will soon be essentially free. But as customers use more of this nearly free service, they quickly add options and deluxe services. First, every room gets a phone line. Then your car gets a line, or two. Then you get a mobile line. Then everyone in the family gets a mobile. Then answering service. Then call forwarding, call waiting, caller ID. Then fax and modem lines. Then all appliances and objects get a line. Then continuous open lines to cash registers, and credit card readers. Then security lines. Then ISDN and ADSL lines. Then caller ID blocking. Then junk call blocking. Then vanity phone numbers. Then portable personal numbers. Then voice mail sorting.
The outer boundaries of telephony keep expanding. When the phone was first invented, there was much confusion about what in the world it was good for commercially. Some thought it would be used to transmit music into homes. But even the most ambitious booster didn't envision having five phones lines in their home (as I do). The desire to have a phone in a car and to have caller ID was manufactured, indirectly, by the technology itself.