The Bay Area Screen Publishers User Group had their first meeting in my studio this week. Fifteen folks showed up. Interests were very diverse. There was one self-published comic guy, one VC funder, one traditional book publishing veteran, one video-book maker, one ebook startup, and so on.
We shared tips on what tools we were currently using, and info on what platforms seemed the best for what kind of books.
Here is Todd Lapin showing off one of the video-books that Vook produces.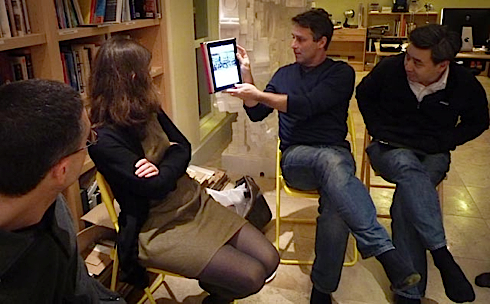 Lloyd Kahn, publisher at Shelter Publications, came down from Bolinas and talked about their first couple of "translations" of a backlist bestseller into an iPad iBook. Rick Gordon has engineered the process. A couple of sample pages from Marathon: You Can Do It: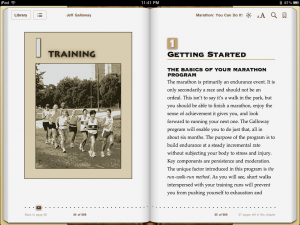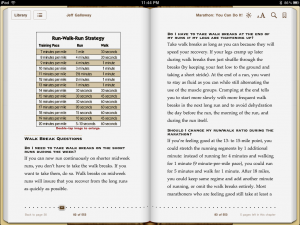 The Book Designer blog reviewed their Marathon ebook and announced "I've never seen an ebook that looked more like a printed book."
At this early stage in the evolution of screen publishing that is a compliment, although I don't think it will be in the long run.
If other attendees want to share their notes from the meeting I'll post them. I think we learned enough that we'll do this again in a few more months.
Back to Top