[Translations: Japanese]
Ownership is not as important as it once was.
I use roads that I don't own. I have immediate access to 99% of the roads and highways of the world (with a few exceptions) because they are a public commons. We are all granted this street access via our payment of local taxes. For almost any purpose I can think of, the roads of the world serve me as if I owned them. Even better than if I owned them since I am not in charge of maintaining them. The bulk of public infrastructure offers the same "better than owning" benefits.
The web is also a social common good. The web is not the same as public roads, which are "owned" by the public, but in terms of public access and use, the web is a type of community good. The good of the web serves me as if I owned it. I can summon it in full, anytime, with the snap of a finger. Libraries share some of these qualities. The content of the books are not public domain, but their displays (the books) grant public access to their knowledge and information, which is in some ways better than owning them.
Very likely, in the near future, I won't "own" any music, or books, or movies. Instead I will have immediate access to all music, all books, all movies using an always-on service, via a subscription fee or tax. I won't buy – as in make a decision to own — any individual music or books because I can simply request to see or hear them on demand from the stream of ALL. I may pay for them in bulk but I won't own them. The request to enjoy a work is thus separated from the more complicated choice of whether I want to "own" it. I can consume a movie, music or book without having to decide or follow up on ownership.
For many people this type of instant universal access is better than owning. No responsibility of care, backing up, sorting, cataloging, cleaning, or storage.  As they gain in public accessibility, books, music and movies are headed to become social goods even though they might not be paid by taxes. It's not hard to imagine most other intangible goods becoming social goods as well. Games, education, and health info are also headed in that direction.
As creations become digital they tend to become shared, ownerless goods. We can turn this around and say that in this realm of bits, property itself becomes a more social endeavor. Property may be less about title and more about usage and control. An idea can't be owned in the way gold can; in fact an idea has little value unless it is shared or used to some extent. Its value paradoxically can increase the less it is owned privately. But if no one owns it, who gains the benefit of that increase in value? In the new regime users will often assume many of the chores that owners once had to do. And so in a way, usage becomes ownership.
According to the principle of dematerialization, all goods are having their atoms infused with bits, decreasing their weight per performance, so that all material goods increasingly behave as if they were intangible services. This means that lumber, steel, chemicals, food, cars, plane flights – everything made – can also be governed by the principles of intangible goods (see the New Rules of the New Economy). As goods become disembodied, infused with slivers of mind, and packed full of bits, they will also obey the new dynamics of property. Soon enough everything manufactured will potentially become social property.
As cars become more "electronic" or digital, they will tend to be swapped and shared and used in a social way. The more we embed intelligence and smarts into clothing the more we'll treat these articles as common property. We'll share aspects of them (perhaps what they are made of, where they are, what climate they see), which means that we'll think of ourselves as sharing them.
Our sense of ownership is a funny thing. If you purchase an ebook and download the book's PDF file to your computer, you'd say you owned it, and expect the rights of ownership. However if you went to a link where a PDF of a book was opened on your screen for free and automatically, you might not feel you owned this book, even if it was copied to your disk. Possession of a copy turns out to be less important in the feeling of ownership than does the price. Free things don't generate strong feelings of ownership. Gifts do, which we think of as "free," but our sense of ownership is related to their "replacement costs" – how much they would cost us to buy elsewhere, their market value. If an item has a marketplace cost of zero, we tend not to feel we own it. So as more economic activity gravitates toward the free, less will feel owned. As more is shared, less will act like property.
Sharing is not very different from renting. We could say that the sharing economy currently emerging from social media is really a renting economy. But we don't use the word "rent" logically. When we watch a movie on a pay-TV channel we are actually renting it, although we don't use that word. Yet in fact we use a movie (movies are used by watching them) without owning it; instead we pay for the right to borrow it. That is rent. It doesn't feel like rent because there is no visible unit to swap. If we view a Netflix movie it feels more like renting because a little plastic disk is mailed to us. But if Netflix were to suddenly switch to digital download of the movie (as they are doing) we will still be renting the movie without the disk.  The main reason we don't ordinarily use the metaphor of "rent" with digital goods is because we associate renting with things, rather than services. We rent a tuxedo, but we don't rent internet service. But when we rent, we are sharing the cost of ownership across a group. The legal ownership may reside with the company renting, but the effective ownership – the ownership of use – is held by the group borrowing the good or service.
In a rent relationship the renter enjoys many of the benefits of ownership, but without the need for capital, or upkeep. Of course renters are disadvantaged as well because they may not gain all the benefits of traditional ownership, such as rights of modification, long-term access, or gains in value. The invention of renting was not far behind the invention of property, and today you can rent almost anything. Women's handbags are a $9 billion retail industry in the US. Top of the line bags with famous brands sell for $500 or more. Since bags are often matched to outfits, or seasonal fads, a selection of fancy bags can get expensive real quick. In response to the high prices of bags a sizeable bag rental business has emerged. In large cities one can rent bags from a tony rental storefront. Or anyone can head to a half dozen handy online bag rental websites, and rent a near-new copy of a high-priced bag for their own use. Rentals run $30-60 per week, depending on the bag's demand. Renting thrives because for many uses it is better than owning. Bags can be swapped to match outfits, returned so one does not need to store them. For short-term uses sharing ownership makes sense. And for many of the things we use in the upcoming world, short term use is the norm.
As more items are invented and manufactured – while the total number of hours in a day to enjoy them remains fixed – we spend less and less time per item. In other words the long-term trend in our modern lives is that ALL goods and services will be short-term use. Therefore all goods and services are candidates for rental, sharing, and the social commons.
Once you have a trendy bag, you might need some trendy shoes, jewelry, scarves – all of which can also be rented. And its not just women's fashion today. There is a growing market for luxury good rentals of all kinds. Expensive men's watches, yachts, fine china, and artwork can all be owned temporarily from a company today. Less expensive stuff has a much longer history of rentals. Furniture, baby cribs, folding chairs and tables, construction tools, party tents, tools for do-it-yourself, and health care equipment can be borrowed from some 12,000 rental companies in the US alone.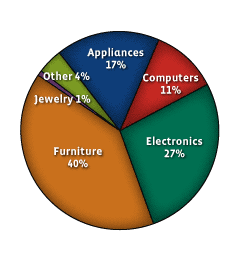 What kind of stuff people rent-to-own
Leasing, licensing, subscribing are all types of shared ownership. (In general we rent for short-term and lease for longer; we'll rent a car for a week, or lease it for 2 years.) There are other variations in the sharing economy, such as rent-to-own, where regular payments go towards the purchase of the good when the purchase price is reached. Low-income families without good credit will often rent-to-own (at predatory lending rates) furniture and appliances they can't afford to purchase. Technically a mortgage is a type of rent-to-own agreement in which ownership transfers to the "renter" at the start of regular payments, but since the mortgagee enjoys the rights of ownership it doesn't follow the patterns of rent.
The latest twist in shared ownership for tangible physical goods is called fractional ownership. It is like time-sharing, but with full ownership privileges and responsibilities. Popular fractional ownership arrangements grant the co-owner a certain number of hours flying in a private jet to the destination of their choice, or driving a super car for 5,000 miles per year, or spending a limited number of days at a resort villa. With fractional ownership you can also share owning a sports team, a racehorse, or a vineyard. A website built to promote fractional ownership of primarily luxury goods puts it this way: "Fractional ownership and asset-sharing gives you an ideal way to get the most out of your investment by purchasing only the shares or time you require from an asset. All other aspects are split, both the benefits and the costs, amongst a limited number of shareholders or members."
The downside to the traditional rental business is the "rival" nature of physical goods. Rival means that there is a zero-sum game; only one rival prevails. If I am renting your boat, no one else can. If I rent a bag to you, I cannot rent the same bag to another. To scale your rental business you have to buy more boats or bags. But of course, intangible goods and services don't work this way. They are "non-rival" which means you can rent the same movie to as many people who want to rent it this hour. Sharing intangibles scales magnificently. This ability to share on a large scale without diminishing the satisfaction of the individual renter is transformative. The total cost of use drops precipitously (shared by millions instead of one). Suddenly, ownership is not so important.  Why own, when you get the same utility from renting, leasing, licensing, sharing?
But more importantly why even possess it? Why take charge of it at all if you have instant, constant, durable, full access to it? If you lived inside of the world's largest rental store, why would you own anything? If you can borrow anything you needed without possessing it, you gain the same benefits with fewer disadvantages. If this was a magic rental store, where most of the gear was stored "downstairs" in a virtual basement, then whenever you summoned an item or service it would appear at your command.
The internet is this magic rental store. Its virtual basement is infinite, and it provides omni-access to its holdings. There are fewer and fewer reasons to own, or even possess anything. Via omni-access the most ordinary citizen can get hold of a good or service as fast as possessing it. The quality of the good is equal to what you can own, and in some cases getting hold of it may be faster than finding it on your own in your own "basement."
Access is so superior to ownership, or possession, that it will drive the emerging intangible economy. The chief holdup to full-scale conversion from ownership to omni-access is the issue of modification and control. In traditional property regimes only owners have the right to modify or control the use of the property. The right of modification is not transferred in rental, leasing, or licensing agreements. But they are transferred in open source content and tools, which is part of their great attraction in this new realm. The ability and right to improve, personalize, or appropriate what is shared will be a key ingredient in the advance of omni-access. But as the ability to modify is squeezed from classic ownership models (think of those silly shrink-wrap warranties), ownership is degraded.
The trend is clear: access trumps possession. Access is better than ownership.
Back to Top