In 1979 I rode my cheap bicycle from San Francisco to New York, with detours up to Oregon and down to Texas along the way. It took me three months of leisurely riding, with no training up front. I think I spent $500 for the whole trip. It was of course, a blazingly glorious journey, and not that hard. My rule of thumb was to never pass on opportunity to snack along the way, mostly as an excuse to stop and chat with whomever was around. I burned through a lot of junk food, but learned a lot about the US.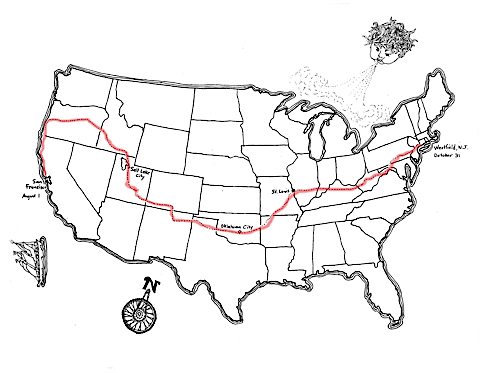 The hardest part of the trip was not bringing my camera. As a former photoholic, this task was impossible, only made bearable by my resolution to do a sketch a day in a notebook instead. For for three months I created a sketch and a haiku per day. Sample pages from the book: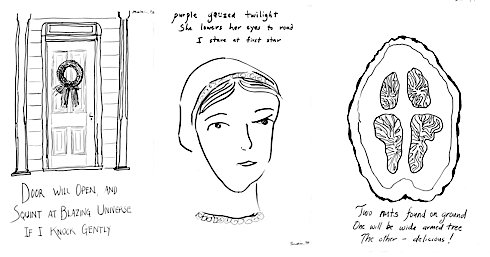 A few years ago I printed up a bunch of paper book reproductions for friends, but that print run is almost gone.
As an exercise in e-publishing, my webmaster and research assistant Camille Cloutier has migrated the book to the Kindle. So there is now an ebook version of Bicycle Haiku. This bit of amateur art can be diverted to your Kindle on Amazon for $2.99. There is an iBook version as well, but Apple has been slow in putting it up on their store.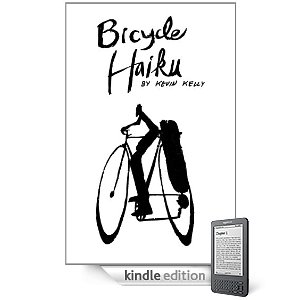 I enjoyed my ride across the continent so much that afterwards I wanted to produce a short how-to for other potential riders. I posted notices in travelers's newsletters to locate about 150 other people who had ridden their bikes across and I asked them to fill out a questionnaire about their experience. The questions I asked were the Frequently Asked Questions that most transcontinental riders get along the way. Even though these answers were given 30 years ago, I think they are still valid and useful today. (A fuller more complete set of replies ran in the Whole Earth Review, in PDF here.
As you'll see, anyone can ride a bike across. It doesn't take much money — food is about your only cost. And there really is no better way to see this country. I hope you do it.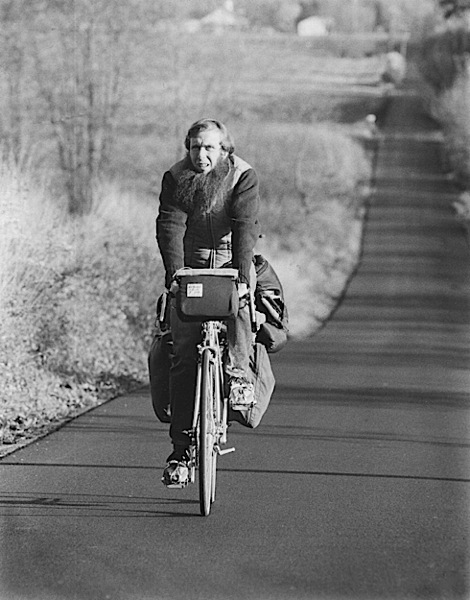 A friend shot this pic of me near the end of my trip in Pennsylvania.^
FAQ about riding a bike across the US
HOW MANY MILES DID YOU RIDE ON AN AVERAGE DAY?
A good rule of thumb, I believe, that is useful for beginners, is that if you are in reasonable shape, and the country you're going to tour through is not killer mountains, 70 miles per day is a nice day's ride that will exercise you but not wear you out for the next day. Eighty to ninety means no swimming at lunch and no long stop to read a book. -Bill Nelson
WHAT WAS YOUR FIRST CHOICE IN LOOKING FOR A PLACE TO SLEEP? WHERE DID YOU USUALLY WIND UP? WHERE WOULDN'T YOU WANT TO SLEEP AGAIN?
It went like this: we'd politely ask if we could pitch tent in the backyard of a stranger, or better yet, of someone we'd met along the way, or someone we vaguely knew of (e.g. someone In one's college class whom we didn't actually know). With luck, any of the following would happen: offers of dinner/breakfast, shower/laundry, even a bed for the night (but no farmer's daughters). This worked out about half the time. – Peter VanderVen
DID YOU RIDE ON THE INTERSTATES?
Near Seattle, I rode on what I thought wasn't an interstate. It was and I promptly got a summons. I appeared in court the next day in the true tradition of Alice's Restaurant, fully outfitted in bicycle gear and rear-view mirror on my glasses. The judge asked me to pay court costs (about $3) after I gave him my song and dance. It was quite a highlight. – David Strom
HOW DID YOU KEEP THE DOGS AWAY?
When confronted by a dog intent on running alongside you, snapping at your ankles, try spraying him with your water bottle, and yelling "NO, NO," etc. There is much too much made of this in bicycling mags, and books, though. Dogs should be viewed more as challenges, not hazards, sort of like 9,000-foot mountain passes. – Robert Schwarz
DID YOU GET MANY FLATS?
A We had 136 flats between the two of us. A large portion of these flats occurred in the desert where temperatures of over 110 degrees were melting our patch glue. Another reason for our high number of flats was that we were both on one-inch tires. Most of our flats were
pinches and not punctures. – Jay Aldous
Two. One was an old patch that blew out. I attribute my low number of flats to "Mr. Tufty," which is a strip of tough plastic that goes between the tire and the tube. It is cheaper and lighter than thornproof tubes and is probably just as effective. There were many times when I pulled thorns out of my tires, but they had not penetrated Mr. Tuffy. – Susan Brown
WHAT WAS THE FARTHEST YOU WOULD DETOUR?
The entire trip was a detour. Very little was planned. We back-tracked once, 40 miles, to do some day-hiking in the
Tetons. – BMA
DID YOU LOSE OR GAIN WEIGTH?
On our tandem ride the front rider lost 10 pounds but the rear rider gained 10 — resulting in no net loss of bicycling weight — just a shift from front to rear! – Judy Farout
WHAT DID YOU THINK ABOUT WHEN YOU WERE RIDING THE LONG STRETCHES?
I was "thought out" after two weeks. – David Blum
On my trips I didn't think too much, which is an achievement in modern
society. I believe it was as close as I'll ever get to a blank mind because I wasn't concerned about anything, really, except for surviving that day. I could spend at least an hour deciding my dinner menu, knowing full well that I'd end up with macaroni and cheese. I'd sing
Beatles. Sometimes I'd read, I once read a 300 page novel out loud to a friend I was traveling with. I ran over less junk than he did. I would also eat. I could make sandwiches, peel bananas and oranges, and even make a cup of kool-aid all with one hand. -Tod Berlihger
WHAT WERE YOU GOING TO BRING BUT GLAD YOU DID NOT?
A better tent which would've weighed another 4 lbs. My $29 special weighed only 3 lbs- and never leaked unless it rained. -Tom Mirole
WHAT PART OF THE TRIP WAS THE EASIEST?
One of the most pleasant segments of my trip was the desert. Vast distances of nothing; just me, my partner, and Elsie (my bike). -Jay Aldous
DID YOU FIGURE OUT A WAY TO KEEP DRY IN THE RAIN?
I have long since given up the idea of actually staying dry through a rain. My theory now is that I wear rain gear to keep warm, not to keep dry. On the Alaska trip I took with me a "Slac Jac" by Gerry. Besides having a hood which rolls up into the collar, it also has a pair of pants which roll up into the hem. (They snap closed along the inseam.) I was very happy with this arrangement both for keeping warm and with respect to the freedom of movement that it allowed. Every 20 minutes or so, however, I would have to stick a finger into each elastic cuff and let the accumulated water drain out. -Fr. Jerome Schaad
WHAT DO YOU WHISH SOMEONE HAD TOLD YOU BEFORE YOU LEFT?
When a local resident says it's only a mile or two, plan on 10. -Phil Norton
CAN ANYONE RIDE A BIKE ACROSS AMERICA OR DOES IT TAKE A SPECIAL PERSON?
Anyone. Emphatically yes. It doesn't matter what speed one chooses, it is simply a matter of persistence. Chris and I passed two women from Buffalo, a mother and daughter, who were so obese they probably had to pump extra pressure in their tires to keep them from going flat. They had no concept of bike repair, drafting, gearing, proper clothes; their bikes were technological horrors. Still they were having a great time, managed to ride between 50 and 80 miles a day, and learned about bike repair. I'm sure they lost some weight, too. -David Abramson
Two legs are a must. I take that back, I rode approximately two miles with only one crank when one fell off. I should say one leg is a must. -Dave Lefkowiftz
It takes a good sense of humor. -Ruth Baltus
I think anyone can do the physical aspect of riding. I may have been the fattest woman to have biked and got across! -Ann Medairy
At one time before the trip, I would have told you it would have taken a special person. However, since the trip I've changed my mind. It does not take a special person. There is one special requirement I feel, it is a trait I found in every cyclist I met and talked with. It
made the difference between a successful ride and one that wasn't. The
one common denominator was a strong desire to make it happen. That desire coupled with a good attitude will get you across America on a bicycle. -Jerald Byrd
Back to Top