[Translations: Japanese, Ukrainian]
What does it mean to grow up in a digital world? Here are a few anecdotes told to me by friends and readers:
*
My friend had a young daughter under 5 years old. Like many other families these days, they have no tv in their house, but do have has lots of computers. With his daughter he was visiting another family who had a tv, which was on in another room. The daughter went up to the tv, hunting around it, and looked behind the tv. "Where's the mouse?" she asked.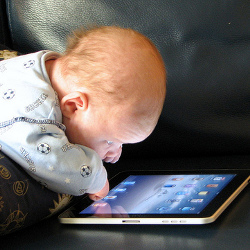 *
Another friend had a barely-speaking toddler take over his iPad. She could paint and handle complicated tasks on apps with ease and grace almost before she could walk. It is now sort of her iPad. One day he printed out a high resolution image on photo paper and left it on the coffee table. He noticed his toddler come up to up and try to unpinch the photo to make it larger, like you do on an iPad. She tried it a few times, without success, and looked over to him and said "broken."
*
A 21-year old reader told me this one. She sometimes works at a theme park. Once a little girl took her picture, and after she did, she told the park worker, "But it's not a real camera, it doesn't have the picture on the back".
*
Another reader had this story. Her son had access to a computer starting at the age of 2. Once while they were shopping in a grocery store, she paused to find a label on a product. "Just click on it," her son suggested.
*
Yet another acquaintance told me this story. He has a son about 8 years old. They were talking about the old days, and the fact that when my friend was growing up they did not have computers. This fact was perplexing news to his son. His son asks, "But how did you get onto the internet before computers?"
I take two lessons from the mouth of babes: if something is not interactive, with mouse or gestures, it is broken. And, the internet is not about computers or devices; it is something mythic, something much larger; it is about humanity.
UPDATE: I added two stories. Tell me more.
Back to Top