Since the hot rod days in the 1950s cars have been detailed, pin-striped, and air-brushed with outrageous decorative art. It was expensive and permanent. To do a good job required the finely honed skill of a real artist. Then there are art cars, with a different aestetic. Piles of stuff glued onto the outside. A highly polished finished is not required for an art car.  Boldness, creativity, and an I-don't-care-what-people-think attitude were required. This type of personalization is also not for everyone. But cars need personalization. Almost everything else in our lives can be decorated with high class cheaply — except cars.
Last night at a party hosted by IDEO at Pier 28 in San Francisco a small start up premiered their solution to personalization of cars. Infectious (their web site is still in obscura mode) will be offering custom created vinyl temporary tattoos for vehicles. The results look like this: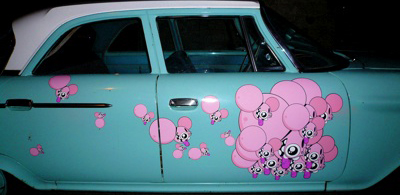 The designs are printed with solvent inks on a clear vinyl backing, then pressed onto the clean surface of the car. Then the sheet is rubbed with a plastic burnisher, then the backing peeled off.  That's it. The tat will last several years including the punishment of car washes.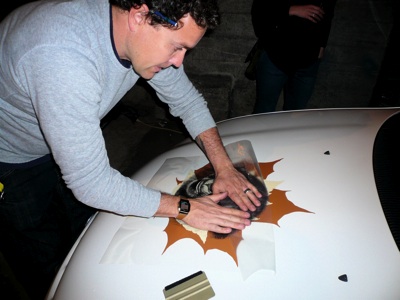 At first Infectious will operate like Threadless, the custom t-shirt design site. Designers will submit their finished designs to the site and then members of the sign vote on which design they want printed next. This way there is a small market for small runs, offering some efficiencies to a start up, and it also leverages the power of a passionate community of users. Eventually, Infectious says, they will generate vinyls for anyone who uploads a design file.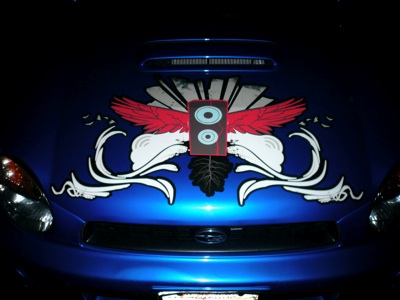 The costs will be proportional to the amount of vinyl/ink used. Prices will range from $50 for small bits to $200 for large sections.  The images here capture four cars being tattooed during the party. Each section is considered "large."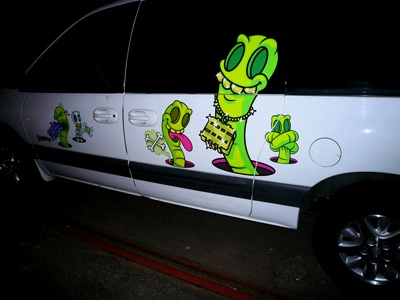 Man, am I ready to take my beige generic Suburban and give it some character!
Back to Top