I have a piece in the new issue of Wired that began last January as a post to the Technium, but kept getting longer. As it grew to 7,000 words, it seemed a good fit for Wired,so I never posted it. The essay, called the New Socialism, describes an emerging embrace of socialism-lite or digital socialism in the online realm. It was edited in half to run in Wired this month. An excerpt: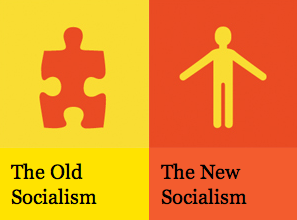 How close to a noncapitalistic, open source, peer-production society can this movement take us? Every time that question has been asked, the answer has been: closer than we thought. Consider craigslist. Just classified ads, right? But the site amplified the handy community swap board to reach a regional audience, enhanced it with pictures and real-time updates, and suddenly became a national treasure. Operating without state funding or control, connecting citizens directly to citizens, this mostly free marketplace achieves social good at an efficiency that would stagger any government or traditional corporation. Sure, it undermines the business model of newspapers, but at the same time it makes an indisputable case that the sharing model is a viable alternative to both profit-seeking corporations and tax-supported civic institutions.
Who would have believed that poor farmers could secure $100 loans from perfect strangers on the other side of the planet—and pay them back? That is what Kiva does with peer-to-peer lending. Every public health care expert declared confidently that sharing was fine for photos, but no one would share their medical records. But PatientsLikeMe, where patients pool results of treatments to better their own care, prove that collective action can trump both doctors and privacy scares. The increasingly common habit of sharing what you're thinking (Twitter), what you're reading (StumbleUpon), your finances (Wesabe), your everything (the Web) is becoming a foundation of our culture. Doing it while collaboratively building encyclopedias, news agencies, video archives, and software in groups that span continents, with people you don't know and whose class is irrelevant—that makes political socialism seem like the logical next step.
A similar thing happened with free markets over the past century. Every day, someone asked: What can't markets do? We took a long list of problems that seemed to require rational planning or paternal government and instead applied marketplace logic. In most cases, the market solution worked significantly better. Much of the prosperity in recent decades was gained by unleashing market forces on social problems.
Now we're trying the same trick with collaborative social technology, applying digital socialism to a growing list of wishes—and occasionally to problems that the free market couldn't solve—to see if it works. So far, the results have been startling. At nearly every turn, the power of sharing, cooperation, collaboration, openness, free pricing, and transparency has proven to be more practical than we capitalists thought possible. Each time we try it, we find that the power of the new socialism is bigger than we imagined.
We underestimate the power of our tools to reshape our minds. Did we really believe we could collaboratively build and inhabit virtual worlds all day, every day, and not have it affect our perspective? The force of online socialism is growing. Its dynamic is spreading beyond electrons—perhaps into elections.
Back to Top