[Translations: Japanese]
Nobody reads big factual books anymore. Who has time? With a lot of effort you can get folks to buy big factual books, but they don't usually read them. They sit on the "to read" shelf once they get home. Or pile up in the inbox on an ebook reader. I know. As an author I know how many of my purchased books are unread. But while it is nice that people buy books, I feel a failure as an author if the bought (or borrowed) books are not read.
A couple of years ago I had an idea for increasing readership of books. I'll pay you to read my book! I had a clever way to use ebook readers to accomplish this. I mentioned the system to many book lovers and authors, and one of them whom made his living patenting ideas suggest my idea was patentable.
I took some initial steps in that direction, but realized very quickly that getting a patent is just like getting a child – you now have to tend it, protect it, feed it, and develop it. It did not solve anything; it only created new things to solve. I have too many other things to do than babysit or try to peddle a patent, so I am publishing the idea here. It may be that this idea is not patentable at all, or even already patented (I never got that far to look), or maybe it is a lousy idea that can't be implemented. In any case, here it is.
I think it's a great idea. I'd like to have this option as a reader, as well as an author and publisher. I hope someone does this.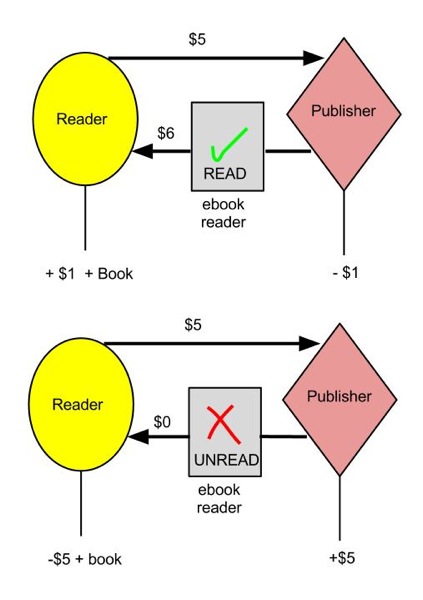 A MODEL FOR PAYING READERS TO READ BOOKS
By Kevin Kelly
June 1, 2012
Proposal for a patent: The idea is to pay people to read a book.
Readers would purchase an e-book for a fixed amount, say $5. They would use an e-book reader to read the digital book. The e-book reader would contain software that would track their reading usage – how long it took on average to turn a page; how often they highlighted a passage; how many pages activated at one sitting, etc. Amazon Kindles today already track bookmark usage patterns which they relay back to Amazon on via its wireless Whispernet. Using a database of known reading patterns from verified readers the software would compare a purchaser's reading behavior to these known reading patterns and establish whether or not a purchaser is really reading the book. If the behavior patterns exceeded the threshold level – say 95% of pages turned at the right speed — then the e-book device would initiate a predetermined payment to the purchaser.
If a reader is given credit for reading the book, then he/she would earn more than they paid for the book. For example, if they paid $5 for the ebook, they would get back $6, thus earning $1 for reading the book. Not only did the book not cost them anything, but they made money reading the book. If they read it.
The Publisher would pay the difference from the potentially greater sales revenue this arrangement would induce. Greater numbers of readers would purchase the book initially in the hope and expectation that they would finish the book and be reimbursed greater than the amount they paid. In their mind, entering into a purchase is an "easy buy" because they calculate "it will cost them nothing." Or maybe even make them money.
However the likelier outcome is that while many more customers buy the book, fewer actually read it completely. This follows the known pattern that most bought books are not read. So the actual payout for success will likely be less than the actual gain in sales, resulting in a net gain to the Publisher for this deal. So if, for example, the Publisher sold 10 books that were unread for every 1 book that was read, the revenue would be $50-$6 = $44. If this offer increased ordinary sales by for example 40%, there would be a net increase in revenue from $35 to $44 or $9, or 25% additional profit for this model.
There is satisfaction for both parties in either outcome. If the purchaser buys the book, but does not read it in full, he/she paid the acceptable price, and still owns the book. The Publisher keeps the full amount. If the purchaser finishes reading the book, they still have the book, but also earned money doing so. The publisher loses only a small amount on the sale, which can be offset from greater sales to others.
The payout ratio can be adjusted depending on the price of the ebook, or the category of content. This mechanism requires no new hardware than what exists today, and better hardware in the future – such as eye tracking technology — will only make it more practical to evaluate whether someone has read a book. This can be accomplished primarily in software. Of course, it should be an opt in choice, and engaged with a purchaser's permission only.
Back to Top