Forty years ago Joseph Weisenbaum programed a chat bot called Eliza to parody a therapist. By mirroring your questions in her chat replies, Eliza seemed far smarter than the program really was. It was considered a harbinger of artificial intelligence at the time, and now 40 years later, it can still impress newbies. (Try Questsin, a MSN Messenger chat bot for examples. The fact that a 40-year-old bot is impressive to anyone now is often taken as evidence of AI's lack of progress.)
Many people have built chat bots since then. Recently conversation agents (their hi-falutin term) have been put to work in on-line games and e-commerce. Upsellit is a company that sells a chat bot service which promises to increase a merchandiser's revenues by appearing when a customer decides to abandon a full online shopping cart. This Eliza salesbot, called either Susan or Courtney in some versions, jumps in to persuade the customer to complete their purchase.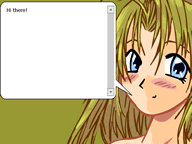 The following transcripts from some sessions with Courtney are reproduced in a article on Upselit shop bots in Fortune by Paul Sloan:
The results are impressive. Here's a conversation a customer at online retailer Gourmet Station had with "Susan," a virtual live chat assistant. Right after the shopper clicked away from the shopping cart, a small chat window popped up and Susan went to work.

Susan: "Hey wait! Please don't go. Just this once we'd like to offer you an instant $10 savings discount off on shipping! That's 50% off the regular cost of shipping [normally $19.99] if you order today. Just click here and enter 'sellup07' in the promo code box."

Susan goes on: "Just type 'Hi' or 'Hello' in the space below to let me know you are there…"

The customer: "Hi."

Susan: "Hi, thanks for chatting with me today…Click here and enter the promo code "sellup07″ to take advantage of this amazing offer."

Customer: "K."

Susan explains what Gourmet Station is and offers to take $10 off shipping if the customer orders now.

The customer types: "Cool…gotcha, where do I have to go again?"

Susan explains again what Gourmet Station is and gives the customer a link to make the order. "Your satisfaction is guaranteed!" she writes.

Customer: "Thanks, going to go and check it out now."

Susan, unconvinced, keeps going: "If you are not satisfied with the quality of our products, we will refund your money. If our prepared meals are delivered damaged, we will either refund your money or reship." She continues: "Would you like to take advantage of this offer?"

Customer: "Why is your company better than any other company out there?"

Susan: "Our goal is to provide a gourmet experience from beginning to end." She sends the customer another link to enter the promo code. She chimes in again: "Would you like me to provide you the link back to the order page to take advantage of this amazing offer?" The customer follows the link. She closed the sale.

[snip]

The software scans information off a Web site to find answers for the customer, but it's also designed to answer offbeat questions that occasionally come from shoppers who've become suspicious. One such shopper busted Courtney at 123inkjets.com earlier this month. After some back and forth about a product the customer was looking for, the customer wrote: "How old are you, anyhow?"

Courtney: "I am 24"

Customer: "What's 3+4?"

Courtney: "well let's see here…7 :)"

Customer: "Hehe, thank you."

Courtney: "You are welcome."

Customer: "One more question: How much is shipping?"

Courtney: "That depends on exactly what you get. What I can tell you is that if you order from us today we can give you 10% discount!…"

Customer: "Who wrote Huck Finn?"

Courtney: "This amazing offer is only available through this chat and for a limited time. CLICK HERE to take advantage of this deal."

The customer ends the chat. Heck, not even a human salesperson can close every sale.
The nifty buzz word for this low-level expert system is "Chat Marketing."
Back to Top