Some of you have been waiting for the paperback edition of What Technology Wants. You can now pre-order it on Amazon here. The delivery date is September 27th. I think Penguin did a fabulous job in designing a striking cover for this edition. This version is not much heavier or larger than a Kindle, it needs no batteries, it is much easier to navigate, and it displays the illustrations in a much superior way than an ebook. Of course, it will be readable in 30 years from now as well. And all for only $11!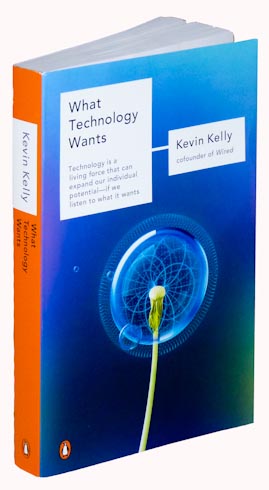 I'm still musing on how to launch the paperback. I've been thinking about doing an hour-long online "appearance"/talk/dialog for any organization purchasing a minimum number of copies. Let me know if you have any interest in that. In the meantime I've done a few interviews recently with not-your-usual hosts.
The Slashdot hive mind interviewed me. They threw some odd questions, and I made up some odd answers.
Patt Morrison at the LA Times did a short Q&A about What Technology Wants on the op-ed page. She takes a big view.
I did a podcast with the World Transformed on Blogtalk Radio. I'm in the second half, talking about the long-term implications of the Technium. Good questions all around.
For those who care, I did an extended interview with Christianity Today. Talking about the spiritual dimension of technology; they labeled me the Geek Theologian.
Besides the paperback of What Technology Wants there is an Audio Version, and of course an iBook, Kindle domestic and international, and Nook.
Back to Top