Astronauts have accumulated a database of 400 photos of the world's cities at night taken from the space station. A small gallery and account of this effort reveals some interesting views. The pictures were shot from a make-shift adjustable camera holder that compensates for the rapid movement of the space station to produce sharp, clear portraits. These new images are a magnitude clearer than the oft-seen mosaic picture of the world at night. The camera tracker was cobbled from extra parts "found" in the space station. Cities on different continents have distinctive identifying signatures at night due to the local type of lighting, and the cities' cultural origins.  The brightest spot on our planet at night today is the strip at Las Vegas.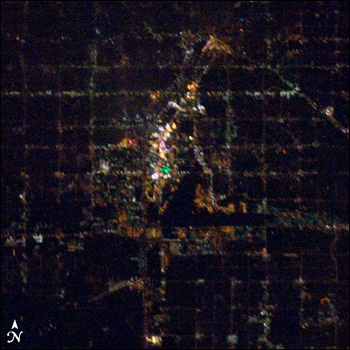 Las Vegas strip, Feb. 4, 2008 with a 400 mm lens.
The cities of Jiddah and Mecca, Saudi Arabia, are connected by a well-lit pilgrim road.
This wonderful tour of world cities at night is well worth watching.
Back to Top