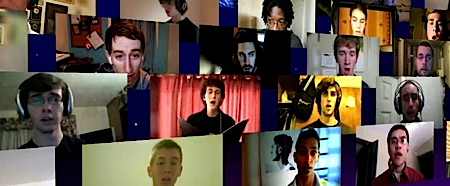 This video is one of the loveliest things I've seen in the while. Many critics of web technology complain that there is nothing special enabled by social media which you could not do with traditional media. Yes, you could make a choir of 200, but it would probably not sing like this. Take a look at this virtual choir. It brings 185 voices, all recorded independently at home, and then combined into a virtual choir. Each voice (available on the side of the video) is expert, each face unique; combined they are heavenly. Could you do a choir of 1,000? Yes!
The choir was organized by composer and conductor Eric Whitacre who well known for his choral compositions.
Here were his instructions:
First, I'll record a conductor track this week, with me conducting and a friend playing the reduction on the piano. I'll also record a separate video where I'll discuss the piece, and try to illustrate a few musical concepts that everyone should try to achieve while performing their individual parts.

Charles Anthony Silvestri will post a video talking about his translation of the text. He'll also speak each of the words with pure, perfect Latin vowels.

Then, Scottie will make individual part videos, one side of the screen showing the sheet music for the part you've selected to sing (soprano, alto, tenor, or bass) and one half of the screen with my conductor track.

If you're interested in auditioning for the soprano solo, you'll just post a video of the first eight measures of the piece, singing the solo in measures 5-8. We'll choose our favorite and it will appear in the final video.
The first attempt at a virtual choir singing a piece called Sleep with fewer members is shown here.
Back to Top