There's few streets in this part of Kenya, so the bookmobile comes via a camel. This ingenious library is boxed and strapped to a camel. Author Masha Hamilton has accompanied the camels on library trips through Kenya's isolated Northeastern Province. She writes on her web site: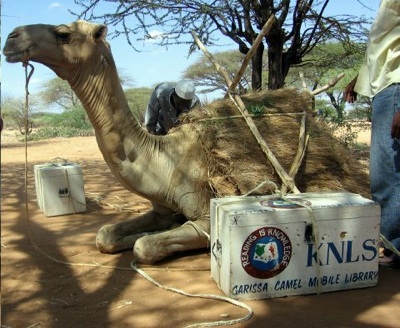 The actual Camel Bookmobile brings books to semi-nomadic people in Northeastern Kenya who live with the most minimal of possessions, suffering from chronic poverty and periodic drought. I visited the region during a period of drought and made several hours-long walks through the African bush with the bookmobile. I cannot describe how moving it was to see the people, particularly children, crowding around as the traveling librarians set up straw mats under an acacia tree and spread out the books. The excitement is palpable.

The Camel Bookmobile books are primarily in English. The children are taught the language in outdoor "classrooms" under acacia trees for the younger students, indoor classrooms for the older students. They particularly like children's storybooks, though all fiction is also sought-after, as well as books about math and astronomy, biology and other sciences. As you can imagine, the camel library always needs more books — the trip is hard on books and, as these are a semi-nomadic people known as pastoralists, not all volumes are returned.

This area, Northeast Kenya near the unstable border with Somalia, is definitely a region in transition. Due to years of drought and famine, the elders (many of whom still feel romantically attached to their nomadic lifestyles) are recognizing that their children must be educated, so the demand on the camel library is growing. Illiteracy rates in this region are put at 85 percent. Among adults outside the towns, my guess is that it is higher than that. We in the West have so many books; just mailing a single one to the camel library, if done five-hundred times, would have enormous impact.

The Camel Bookmobile librarians told me their patrons also really appreciate the sense of connection they get when a book is signed from a particular place and person. It widens their understanding of the world. So send a favorite book or two, sign your donations with your name and city, and add a note if you wish.
Instructions for contributing to the camel bookmobile are on Marsha's site.
Back to Top