In February, 2006 the BBC.com had a good article on an DIY low-powered FM radio station operated out of a electronics repair shop. I'd be surprised if this was the only one in India (or Asia) like this. The owner-builder claims not to know that broadcasting required a license. The station, he says, just sort of grew from his junk and his interests.
"On a balmy morning in India's northern state of Bihar, young Raghav Mahato gets ready to fire up his home-grown FM radio station. It may well be the only village FM radio station on the Asian sub-continent. It is certainly illegal. The transmission equipment, costing just over $1, may be the cheapest in the world.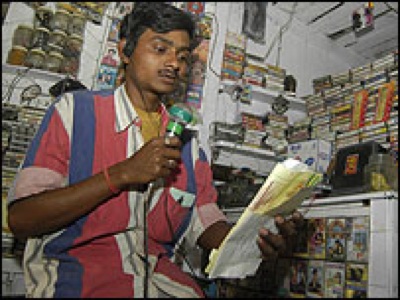 The transmission kit is fitted on to an antenna attached to a bamboo pole on a neighbouring three-storey hospital. A long wire connects the contraption to a creaky, old homemade stereo cassette player in Raghav's radio shack. Three other rusty, locally made battery-powered tape recorders are connected to it with colourful wires and a cordless microphone. The radio station is a repair shop and studio rolled into on. The shack has some 200 tapes of local Bhojpuri, Bollywood and devotional songs which Raghav plays for his listeners. Raghav's station is truly a labour of love – he does not earn anything from it. His electronic repair shop work brings him some two thousand rupees ($45) a month."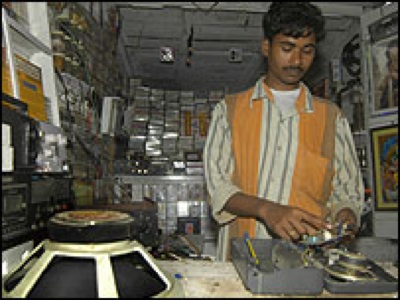 Raghav makes his living from repairing electronic goods.
Back to Top