Mobile libraries carried on the backs of animals are not new. We covered camelbookmobiles. Here is one using mules in Venezuela as reported on the BBC .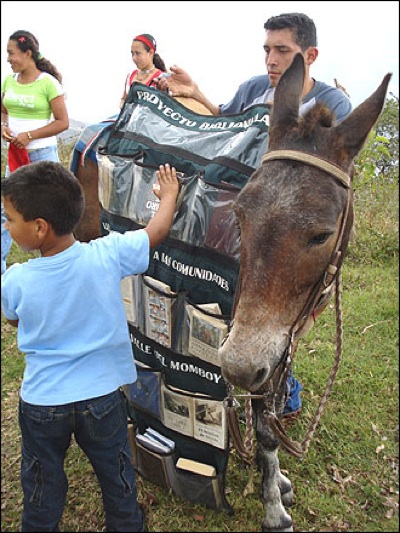 They are known as bibliomulas (book mules) and they are helping to spread the benefits of reading to people who are isolated from much of the world around them.
The idea of loading mules with books and taking them into the mountain villages was started by the University of Momboy, a small institution that prides itself on its community-based initiatives and on doing far more than universities in Venezuela are required to do by law. Anyone who was not out working the fields – tending the celery that is the main crop here – was waiting for our arrival. The 23 children at the little school were very excited. "Bibilomu-u-u-u-las," they shouted as the bags of books were unstrapped. They dived in eagerly, keen to grab the best titles and within minutes were being read to by Christina and Juana, two of the project leaders.
As the project grows, it is using the latest technology. Somehow there is already a limited mobile phone signal here, so the organisers are taking advantage of that and equipping the mules with laptops and projectors. The book mules are becoming cyber mules and cine mules. "We want to install wireless modems under the banana plants so the villagers can use the internet," says Robert Ramirez, the co-ordinator of the university's Network of Enterprising Rural Schools. "Imagine if people in the poor towns in the valley can e-mail saying how many tomatoes they'll need next week, or how much celery. The farmers can reply telling them how much they can produce. It's blending localisation and globalisation."
Back to Top