William Drentell, writing in the blog Design Observer, reviews an exhibition of shivs — crude knives made covertly by prisoners. He says:
A shiv is a weapon crafted from the limited resources of a prisoner's closed world. Crudely constructed from such things as spoons, shoelaces and upholstery tacks, shivs lie somewhere between the graceful and the grotesque. They're primitive, too — like outsider art, but produced deep on the inside.

The individual parts that make up a shiv tend to be everyday objects, innocent things furtively reconstituted as lethal weapons. Each design choice is essential, but what's particularly notable is that shivs, at their core, are not so much evocations of minimalism as they are symbols of survivalism. A shiv is all about masked utility: it's an innocuous object with improbably toxic intent (whether used to attack others or to protect oneself…).

The shivs shown here, from the collection of designers Chris Kasabach and Vanessa Sica, were confiscated more than twenty years ago from New Jersey's Rahway Prison (now East Jersey State Penitentiary), a maximum-security facility that houses more than 1,500 inmates serving sentences of twenty-five years to life. The designers saw each shiv in their collection as a piece of evidence, and over time, came to identify a kind of unique design pathology. Their observations are fascinating, as are the artifacts that inspired them and the circumstances surrounding each object's unique method of manufacture. You'll never look at a typewriter the same way again.
The photographs of the shivs were made by Brett Yasko for an exhibit at the gallery By Design called Dangerous Beauty: The Art of the Shiv, and the captions written by Chris Kasabach and Vanessa Sica. Among the collection were these two: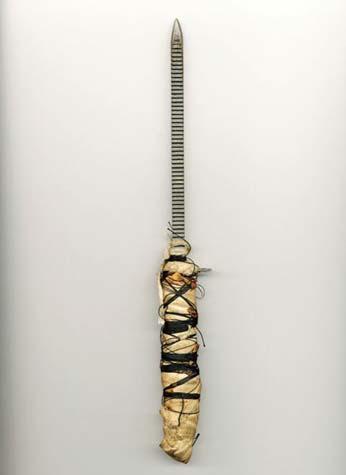 Materials:

Carriage return from typewriter; U-clamp attached to side; handle wrapped with boxing tape, string, upholstery thread and fragments of dried putty.

Backstory:

By law, prisoners must be provided materials to have an opportunity to prepare their own legal defenses. In the 1980s, typewriters were made available for this purpose: the long, notched "spear" here is the carriage return from a prison-issued typewriter. The handle, wrapped with tape, is likely to have been taken from Rahway's boxing facility, where several world-class boxers trained, including Rubin "Hurricane" Carter.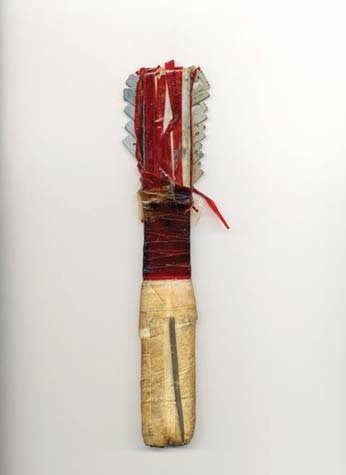 Materials:

Wood strip; five large razor blades glued into one side; six small razor blades glued into other and wrapped with boxing tape, rubylith and clear tape; handle wrapped with boxing tape.

Backstory:

Lifted from the facility's metal sign shop, this shiv is wrapped in "rubylith" — a red, masking tape classically used in signmaking (and, before the digital revolution, commonly employed by graphic designers in the production of "mechanicals"). Eleven disposable razor blades, available for purchase from Rahway's commissary back in the 1980s, are carefully inserted down the sides.
Back to Top