System for managing electronic device cables

Answers Given

Answers Favorited

What is the best way to label and organize electronic device cables and chargers?
Colored rubberbands. Pick a color, add one rubberband to one end, another rubberband to the other. Now you know which cable is which at termination. Added bonus: the rubberbands help manage length.
This assumes you have access to a non-trivial number of colors in the palette, say greater than four.
-C
Plastic bread tags. They come in many colors. Stick a pair on both ends of a cable. If you can't find many colors, write on them with a sharpie.
This is one of those areas where personal preferences come into play. I happen to like these cable ID tags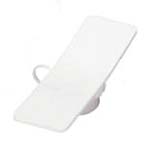 They're particularly good when labeled with a Brother P-Touch.
the best thing I found to label chargers is to get a black and a silver sharpie. The silver one will write on the ubiquitous black plastic with ease and will not erase easily. the black will write on all the rest. As for cables, it depends on how permanently you need to mark them. You could do what the others have suggested or you can use masking tape so you can make a little 'tab' out of it and write on it. What I use on cables that I need to label is use a labelmaker and print out some extra space - use the extra space to wrap around the cable and let the label end just hang off
A label maker is must. But see if you can buy a cartridge that has a extra strong glue. I think brother has one.
If you can use clear heat shrink over the label that is the best.
Another good choice is getting zip ties with plastic tabs.
And another good choice is a silver marker for black dongles.
If you need to easily ID a individual cables of same type, The old number strips electricians have used. I have 0-9 tapes and 7 color tapes. 3M sells these with dispensers.
Different situations require different tools.
My husband has been reviewing tech since 1991. In that time, we've accumulated more than our fair share of small, expensive electronics with proprietary cords. I favor gently wrapping cords around my (small) hand, and then inserting them into a sandwich size Ziploc bag. I then use a gallon-size bag and insert the small, expensive electronic device and the cord with it. I label the items with a sharpie on the Ziploc bag, with date, and dump them into a largish plastic tote until the tote is full. I then take the tote (with lid) and store it in the basement or other off-side location.
Larger items get their own tote, and each tote is numbered, with a photo of the contents on my DropBox drive.

Miscellaneous cords are put into small Ziploc bags by themselves.
I use a Brother P-Touch with the laminated extra-strength adhesive tape to label all of my "wall-warts" with the device it powers. All of the cables are coiled and wrapped with Velcro One-Wrap straps. Since the AC power and standard (e.g. usb) device cables tend to have common connectors, I just throw them all in a Really Useful Box labelled "CABLES"; The power supplies all go in a separate box.
I've tried using a silver Sharpie pen, but found that the markings can be rubbed off and, importantly for me, in dim spaces (e.g. behind or under cabinets) the low contrast makes them very difficult to read.
Silver Sharpie on black electrical or clear Scotch tape, or
Black Sharpie on grey or white electrical or plain masking tape, or
Brother P-Touch labels (using extra strength labels), with or without marker/flag paneled cable ties.
All sorts of Velcro is available for simple organization. If you've got a lot in one place (media center, for example), Google "cable management" and you can be in a world that specializes in data center products, like racking and overhead iron & troughs but including a lot of small stuff too.
Also, I've bought a variety of HDMI cables from Monoprice.com, each with a different jacket color. For installations of two to four (or more) HDMI sources to a display, this is pretty simple with nothing to correct as time passes.
Scrunchies.
Yeah, I'm talking about those fabric-covered elastic bands that hold ponytails in place.
They come in a wide variety of colors and an adequate variety of sizes, but are much easier to work with than rubber bands, and often easier to spot amidst the clutter.
That, and heavy vinyl twist-ties. I use the latter for things I expect to store for long periods (uh, like that 25-foot DB25 RS232 null modem cable still sitting at the bottom of that one drawer) and the scrunchies for stuff that gets use more often, like the power adapter that travels with my laptop.
« Back to Previous Page
Hello, sign-in here to ask or answer a question:
Cool tools really work.
A cool tool can be any book, gadget, software, video, map, hardware, material, or website that is tried and true. All reviews on this site are written by readers who have actually used the tool and others like it. Items can be either old or new as long as they are wonderful. We post things we like and ignore the rest. Suggestions for tools much better than what is recommended here are always wanted.
Tell us what you love.
CATEGORIES
KEVIN KELLY SITES
creative commons