Kitchen
Anolon Advanced Hard Anodized Nonstick 12-Inch Covered Ultimate Pan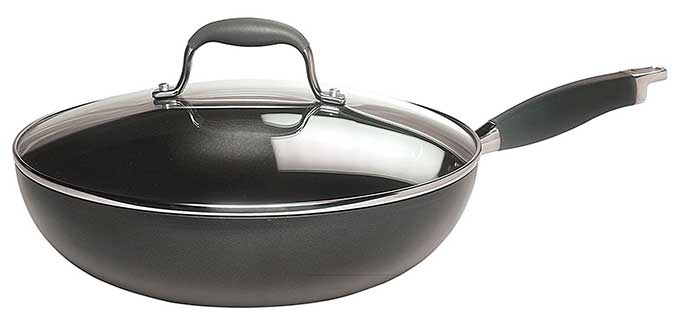 Non-stick pan stays non-stick
I've gone through a number of non-stick pans over the years, and they all had one thing in common: eventually, they stopped being non-stick. They'd peel, or scratch, or eventually just morph into a plain old pan as the coating failed. But this Anolon pan looks like it might last the rest of my life.
If I could only have one pan, this would be the one: the most versatile one I own. After 6 years of heavy usage, the non-stick coating is still perfect, showing no signs of wear and seems just as slippery as the day it came off the factory floor; my morning egg-over-easy still slips off easily.
According to the manufacturer, the coating will stand up to metal utensils (I've generally played it safe and used nylon, silicone, or wooden spoons and spatulas). The heat distribution is rapid and even, much better than cast iron — it's solid anodized aluminum, one of the most practical, lightweight, inexpensive, and efficient material for stovetop pans. The pan is also PFOE-free.
The shape of the pan is very adaptable: it looks like a wok-type pan, so it's great for stir-fry, but also work well for anything you'd use a skillet for (omelets, sauté, pan-frying, simmering, etc.), as well as being deep enough to use for most other stove-top tasks: boiling, deep-frying, soup simmering, pasta boiling, etc. It will hold about 4 quarts of liquid.
Many high-end pans have an metal handle, which can create a burn hazard; the Anolon's silicone handle stays cool on the stovetop, and is oven safe up to 400 degrees Fahrenheit.
The pan comes with a close-fitting tempered glass lid with a silicone handle, so you can keep an eye on things easily. It's pretty sturdy; I've dropped it a few times but it hasn't been damaged.
It's not dishwasher safe, but it's very easy to clean; you just have to avoid abrasive scrubbers and cleansers. If anything gets burnt on, try boiling a mixture of three parts water and one part vinegar in the pan over medium heat for 10 minutes; let it stand until cool, then wash as usual with warm, soapy water and a soft nylon brush. If you're looking to replace a tired old T-Fal, or are short on kitchen space and need one pan to do the work of several, this pan would be a good choice!
04/17/17
Anolon Advanced Hard Anodized Nonstick 12-Inch Covered Ultimate Pan ($50)