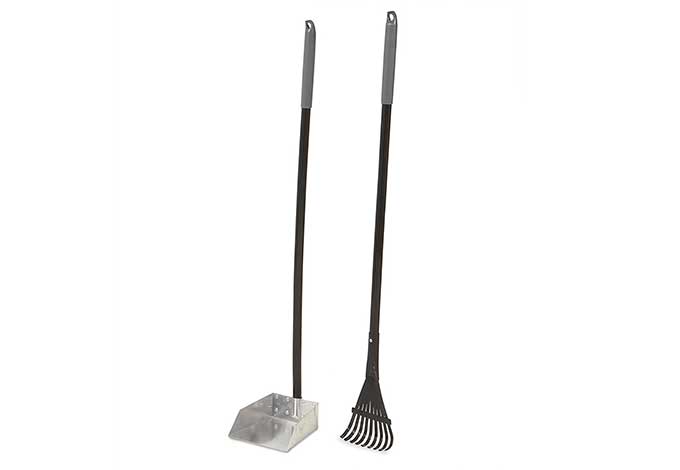 Easy way to collect and dispose of dog waste
I recently helped out a friend with a bad back. I raked up all the leaves in their yard, and their German Shepard had left many "landmines." I asked if they had a pooper scooper, and they said no. "We just use shovels; they're in the shed", he said.
Dirt shovels are not a good solution, as they weigh too much, wear out your arms, damage the grass, and it is just not easy to scoop up the doggy mess. As I was struggling with the shovels, I realized I am glad I have a real pooper scooper set at my house. I've been using it for 2 years. It makes the unpleasant task a lot faster and easier. The rake and bin are both lightweight and just work perfectly together. Put the bin up against the offending pile and a little flick of the rake and it's inside the bin.
Having the 2 tools working in tandem makes it easier. Using just one tool usually just results in the mess being pushed along the ground. The bin holds a lot, so what I do is put the trash can in the middle of the yard and dump the pan in it as it gets full. I would have been done picking up the mess in my friend's yard in about 10 minutes instead of 30 if I had a real pooper scooper with me. With such an unpleasant chore, you definitely want to get it done fast. I have left it out in the elements leaning against the shed quite a few times, and since it is made of aluminum it is still in great condition. At under $20 and available at pet stores, Amazon, Target, etc., any pet owner definitely should have one. And with Christmas coming, it'd make a great gift for the pet owners in your life.
01/26/17
Petmate Clean Response Aluminum Rake and Pan ($20)