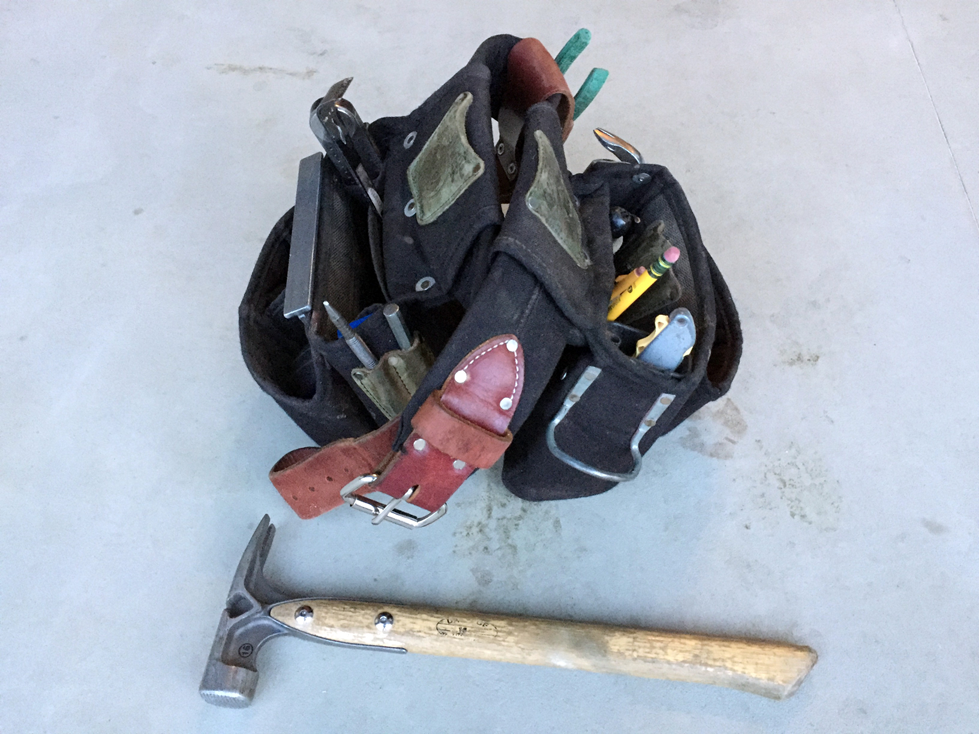 Residential contractor shares what's in his tool belt
I am a residential contractor who does remodeling and repair work, so I carry tools that that are useful to a variety of trades work. Over the years I've put together what I believe to be a perfect compromise between weight and function.
It all starts with the bag:
Finisher Tool Belt Set by Occidental Leather ($190)
These are made in the USA and the quality is amazing. They are light weight and have some unique features, but the best part is that they come in left handed and right handed versions. Having a hand specific system greatly improves your work rhythm and efficiency — trust me!
What's inside the bag: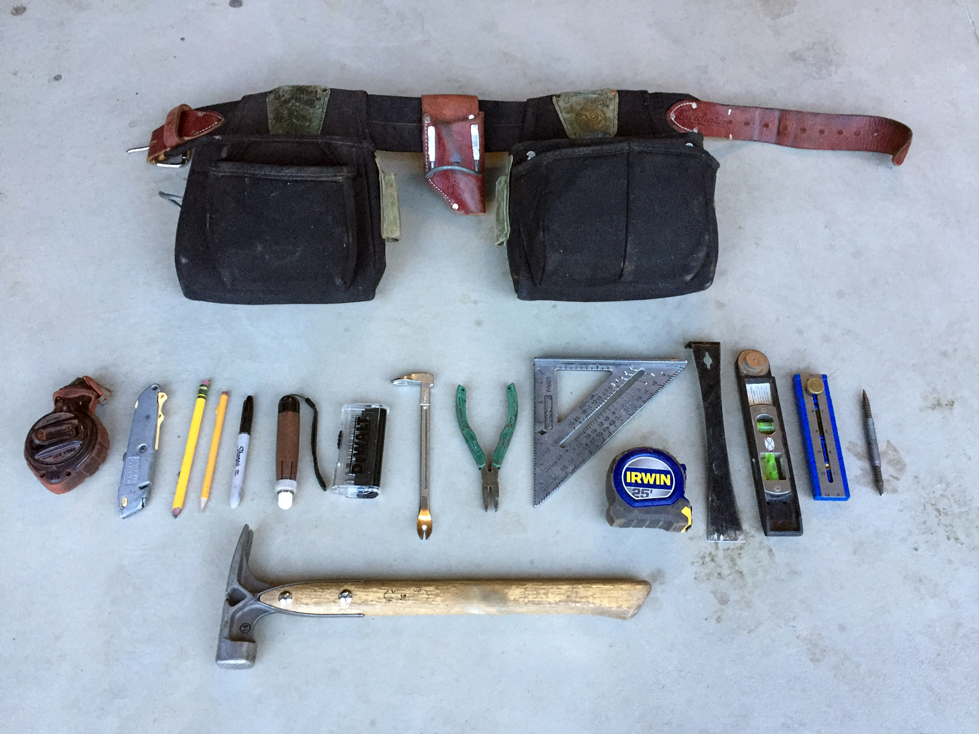 Tajima CR301JF Chalk-Rite Jam Free Chalk Snap Line Box ($16)
You can buy cheaper chalk lines, but you get what you pay for. This one has lasted me years and leaves really sharp crisp lines. Just make sure to use their chalk with it. Not all chalk is the same and their's is a finer grade.
Stanley 10-499 Quick-Change Utility Knife ($18, 2-pack)
Pretty simple and durable and it has built-in storage for extra blades.
My First Ticonderoga Primary Size #2 Beginner Pencils ($4)
I carry a variety of marking tools. This includes a Sharpie, lumber crayon, and mechanical pencil. But the one unique one is the Ticonderoga pencil. My First Ticonderoga is a pencil marketed to kids but is the ultimate carpenter pencil. As you can see it is a larger pencil and includes a big eraser. While suppliers are always giving me free pencils, I find a lot of them to be junk (leads that break easily). These ones are really well made and the eraser is great for finish work.
DEWALT DW2099CS Drive Guide & Holder Set ($8)
I inevitably always need a driver bit for various screws. This one is really compact and holds ten bits. As with many of these types of cases it doesn't come with the bits I necessarily want so I have customized it with a variety of torque, philips, square drive and slotted bits so I always have the bit I need close at hand.
IRWIN 1947768 Pro Tape Measure, 25 ($28)
While every tradesman has their favorite tape measure I want to throw my vote to this one. I've tried them all, but the features I look for are a standout printing on both sides, and a hook that can catch things in all directions. This one has it all and as a bonus is pretty inexpensive.
AngLevel ($40)
Probably the most versatile tool I carry. This is the one I get asked about the most. It is a combination torpedo level, t-bevel, compass, pitch finder and more! Honestly, I can't say enough about this tool. I have enough stuff in my bags already and this combines so many tools in one it is awesome!
Engineer PZ-58 Screw Pliers ($21)
These are specially designed for removing stripped screws. They do everything a normal set of pliers would, but the tip is designed to be able to grab damaged screws and twist them out — a task they do with ease!
Kreg KMA2900 Multi-Mark ($15)
This little blue tool replaces a combination square. Anyone who uses a combination square knows they are awkward to carry in your bags. This one is really compact and light weight and basically more versatile.
SpringTools Combination Nail Set ($13)
If you haven't tried the SpringTools Combination Nail Set one you should. It allows you to get into places that a normal nail set just can't.
Dalluge 7180 16 Ounce Titanium Hammer ($99)
Depending on the work, I use a variety of hammers. This is my framing one. The price tag of titanium hammers scared me off for a while, but after using one for a while now I would never go back. Of course it saves weight, but the real benefit is the reduced fatigue on my arm.
The small nail puller, flat pry bar, and speed square aren't all that unique, but pretty much staples in any carpenters pouch.
01/25/17