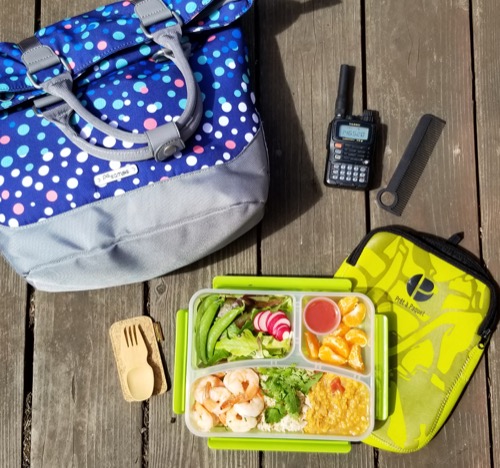 What's in my bag? issue #2
Sign up here to get What's in my bag? a week early in your inbox.
Laura Welcher is a bike commuter, ham radio operator, linguist, non-profit administrator, writer, artist, musician, strength-trainer (well, trainee), gardener, daughter, wife, and auntie.
Yaesu VX-6R ($264)
A good dual-band ham radio that's small and submersible which makes it good for bike commuting in all kinds of weather. I mostly use it for fun and to practice emergency communications (I live in an earthquake-prone zone).
Chicago Combs Carbon Fiber Hair Comb #1 ($25)
Super lightweight — isn't going to break under all the hard abuse it's going to get in my bike commute bag.
Prêt-à-Paquet Leak-proof Lunch Box ($28)
This has been my go-to bike commute lunch box for years. I've never had a spill. And as you can see it fits a lot (that's tomorrow's lunch)! The neoprene zippered case provides enough insulation to get to work and pop it into the fridge until lunchtime. The rubber lid seal comes out easily, and I toss everything in the dishwasher to clean it.
Bambu Bamboo Spork ($10)
What's not to love about a spork? And it goes with my lunch box. This one is nice and lightweight and has a carrying case to keep it clean in my bag.
06/19/19