7 things on my holiday wishlist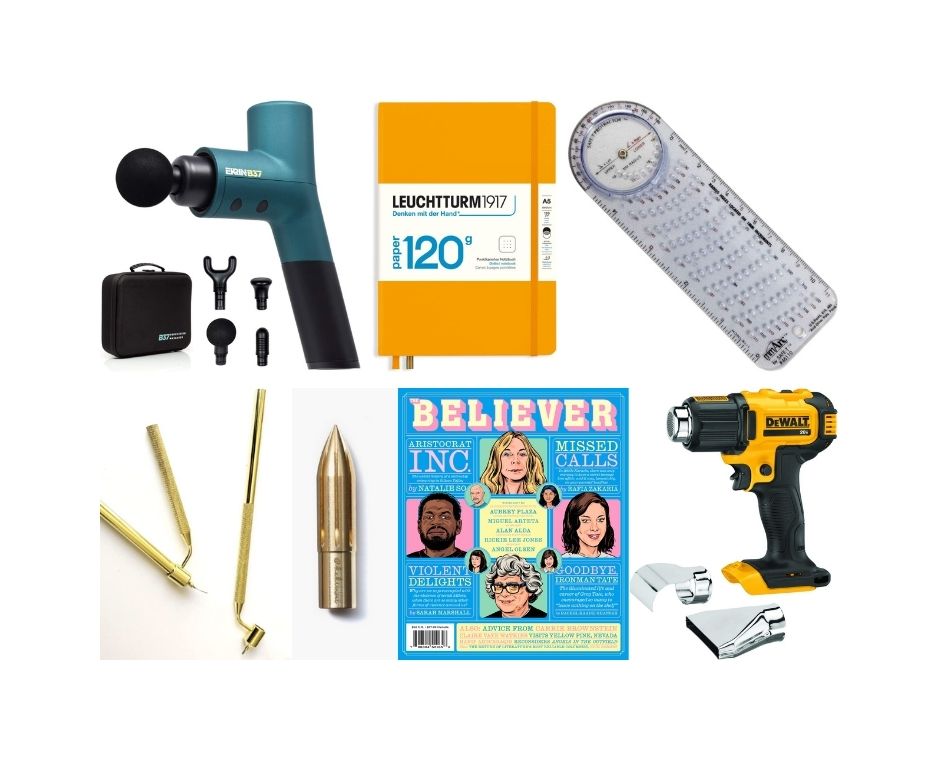 This year we are doing something different for our holiday gift lists. Instead of carefully selecting some of the best tools and gifts that we own and can personally recommend, this time we are carefully listing things we don't have but would like to get. This is a wish list. We've searched for uncommon gifts that seem wonderful, although contrary to the usual policy of this site, we don't actually have any personal experience with the items on this list. If you do, leave some comments. — Editors
---
Camille Hartsell's list includes several new-to-her items, a couple upgrades, and something she should've started collecting long ago.
Ekrin Athletics B37 massage gun
Massage guns are percussive electronic devices you can use on yourself to relieve muscle soreness. I'd love to have one for my post-workout routine. I've tried using foam rollers, but haven't got the hang of balancing on them, and find the experience more painful than helpful. I've never used a massage gun, but a couple friends in my weekly workout group have Theraguns and very much enjoy them. I considered the Theragun Prime, which is a similar price (about $230), but I'm putting the Ekrin B37 on my list because it has a lifetime warranty, it comes with a storage case, it has a longer battery run-time, and runs a bit quieter on its lowest setting. This seems like a great choice for a dependable tool I could use while unwinding with a TV show (hat-tip to Wirecutter for a great roundup).
Leuchtturm1917 120G notebook
I'm now on my second Leuchtturm1917 notebook, but I'm excited to try this 120gsm version which has thicker paper (versus the 80gsm). I use a single notebook for many different tasks, including drawing and sketching, and although I've noticed that most of my pens and markers are OK on the 80gsm paper, some do bleed through (my Copics, and my hard Tombows). This 120G notebook has 203 pages, versus the 251 in my current/previous books, so although the paper is thicker, it'll still be a good number of pages for me.
Safe-T 46110 mmArc Protractor Compass Plus
I usually trace around a drinking glass or a jar lid when I need to draw a circle. It works alright, except in the instances where I really need that circle to be a certain size. And I find that my metal compass just tears right through my paper most of the time. I'd like to try the Safe-T 46110 ($15), which offers the added bonus of a transparent straight edge. And at 6.2ish inches long, it should fit in the gusseted pocket of my notebook.
Fine Line Painting Pen and
I saw someone using one of these fine-line pens on Instagram and it looked so cool. It kind of looks like a calligraphy nib, but the line width is fixed. I like the idea of using it with diluted water colors, but it seems like you could try a variety of inks/pigments, and since it's not terribly expensive (about $18), you could be fairly experimental with what you load into it.
Kakimori Brass Nib
This brass writing nib by Kakimori differs from the pen above in several ways. For one, it's quite a bit more expensive, at about $55, but with this nib you can make a variety of line widths, and even though it's a dip pen it seems to hold a surprising amount of ink. This video review by Kateri Ewing is an excellent demo. The nib should fit into most nib holders, but I'd love to use it with the cherry wood holder also made by Kakimori.
Believer magazine subscription
I caught a delightful conversation about the recent resurrection of The Believer – a broadly ranging literary magazine that also dabbles in journalism, long-form pieces, comics, and more, frequently highlighting new writers. I remember seeing it around on the stands many years ago and probably bought it a couple of times, but I'm just delighted by it's come-back story and this is the kind of casual reading I want to have in my life this next year – varied formats, new voices, interesting takes, not overly obsessed with timeliness, and printed on paper to make sharing with my young kids easy. $60 for a four-issue subscription.
Dewalt battery-powered heat gun
Adam Savage sold me on this Dewalt cordless heat gun (about $115 for the tool without battery). I find myself needing to fix electrical cords that my cats have destroyed, but I'm not ready to get into soldering, so I need a heat gun in order to use those handy heat-shrink tubes that have solder inside. This one uses the same battery back as our air compressor, and I like that it doesn't get too dangerously hot. Seems like it might also work for powder embossing projects.
12/10/22