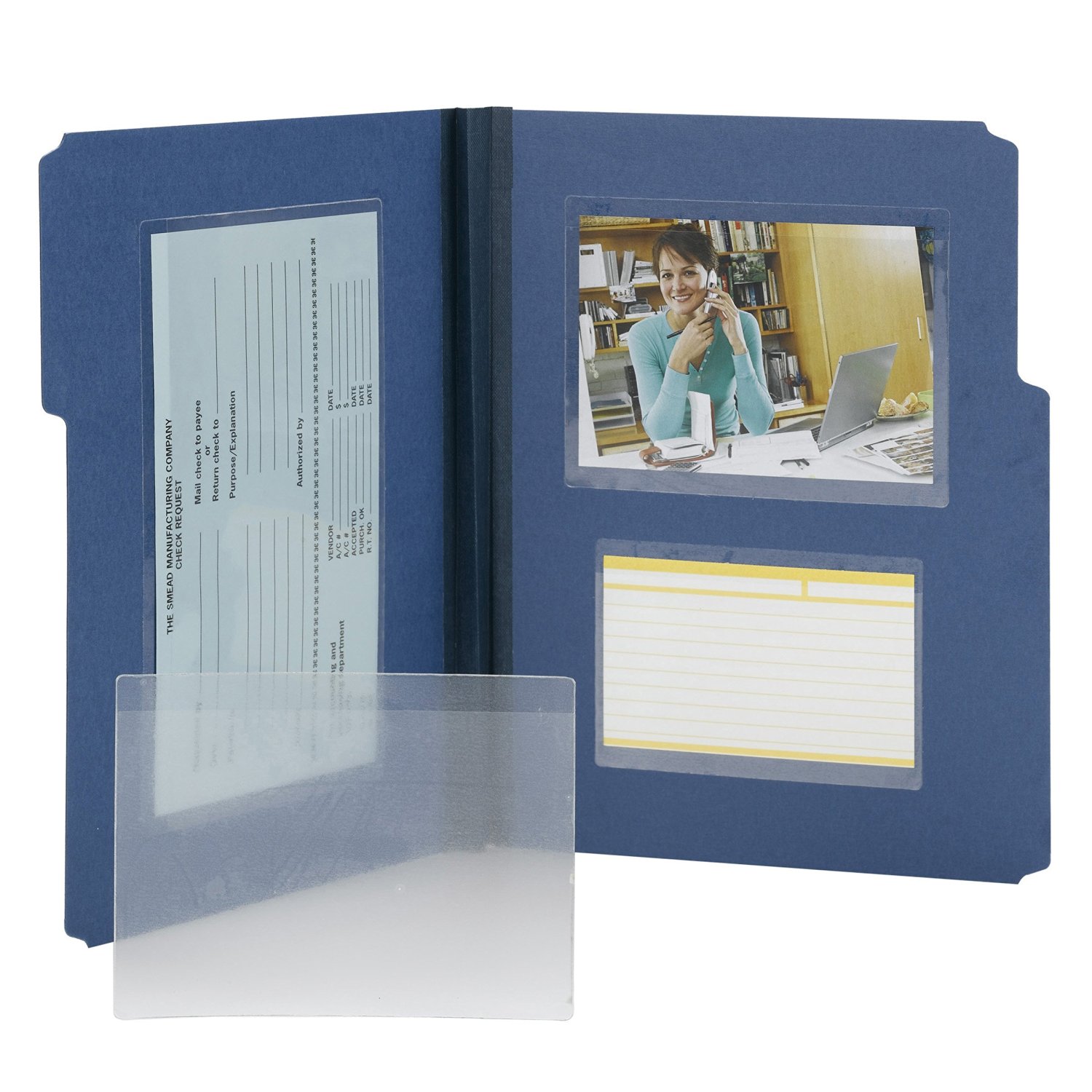 Handy adhesive pockets
Adhesive vinyl pockets can be attached inside one or both book covers to hold book reviews, or inside a loose-leaf notebook to hold sales slips, photos, etc. (In paperbacks it's best to attach it to the first page, the otherwise-useless "false title page," rather than the cover, which flexes too much.) I prefer the 4″ x 6″ size at 25¢ apiece. It can fit, in portrait orientation, into small books and brochures, yet hold a full sheet of paper (folded once).
I mount the pocket in "portrait" mode even when the book is wide enough (over 6.5″) for a landscape orientation, because doing so makes the open end face the spine, ensuring that things can't fall out. Here are other uses, mostly gleaned from Amazon reviews: Pockets can be mounted (to hold photos, index cards, etc.) on the sides of file cabinets, refrigerators, walls, magazine files, storage totes, and inside drawers. Or: on a car's visor. On the case of a CD or DVD. To label shelves. As label-holders inside a Divide-It-Up folder. To hold "floppy" disks. Mounted inside kitchen cabinets, they can hold recipe cards. (Or even—albeit unsightly—mounted on their outside, to hold the in-use recipe card.) In a store, they can be a low-cost signage-holder, where the signs can be mere print-outs from a computer. Ones with flaps can be attached to parcels to hold sales receipts, customs forms, etc. More: As a holder for fliers or business cards, thumb-tacked to a bulletin board (with permission). (The peel-off back would not be removed.) As a holder of small tools or parts in a workshop. Maybe mounted on the back of a tablet or laptop. . . . They come in several sizes and cost between 13¢ and 50¢ apiece, depending on the size and the quantity ordered.
08/29/16
Adhesive Vinyl Pockets (prices vary)