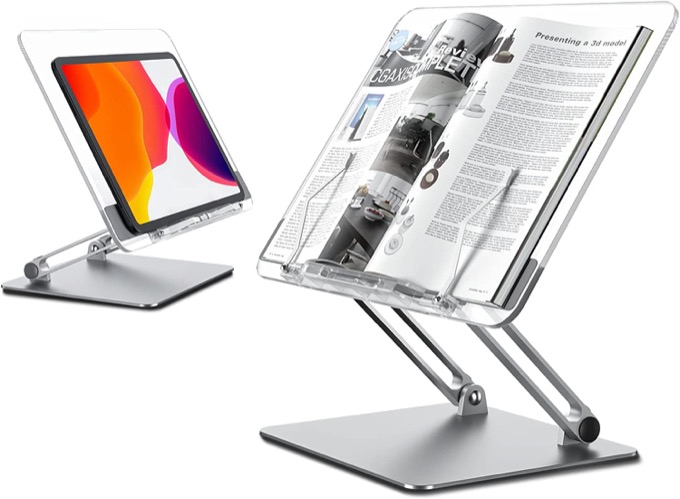 Elevates books and tablets
Why would you need a bookstand? Maybe you've got a lot to read, study, or reference from, reading a text or tablet, and you're starting to suffer from neck and back aches due to poor posture; you want to increase your reading speed*; you want something to hold your cookbook off the counter and open while you work on a new recipe; you want to hold a reference open while you refer to it or make notes, without the book occupying your workspace.
Bookstands can come in very handy, but many have drawbacks: it's hard to turn the pages quickly, it's fussy to adjust, it doesn't lift the book off the workspace, etc.
This one is the closest I've found to perfect. It holds the book securely, makes it easy to adjust the angle and height, and you can either turn pages rapidly by tucking them under the "arch" of the page clip, or securely by placing the clip firmly on the page.
It works well for speed-reading and studying, note-taking and reference, holds the cookbook off your counter while cooking, can hold musical scores on a tabletop while you practice an instrument, or can be used to display an art book. There are friction pads on the bottom, so you can use it on a lap desk or other not-entirely-level surface without having it slide around.
It also holds lightweight tablets or laptops…but don't exceed the recommended 4.4 pound weight maximum, or it may become unstable: I can put my iPad Pro on it no problem, but trying to put my 16″ MacBook Pro on it would be a bad idea.
The stand has a clean, modern design; it's lightweight but very sturdy, with aluminum base and arms and an acrylic support plate (which also has a little gray friction pad to keep electronic tablets from scooting around when you use them). When folded, it's a little over 2 inches thick. A wrench to adjust the arm tension (which you might need to do if you put relatively heavy objects on it), is included in the box. Test the tension and make sure the unit is stable when you're using it with heavy or expensive objects.
I've added one of those inexpensive clip-on USB rechargeable dual-head reading lights to mine; that way any lack of ambient light doesn't impede my reading. I'm finding it a lot handier than I anticipated; you might, too!
*P.S: for those interested, I can recommend a classic book, Breakthrough Rapid Reading by Peter Kump, as a very effective and inexpensive self-guided course in speed reading. I'm reading 5 times faster so far, and haven't made it through the whole course yet… 
01/26/23
SupeDesk Acrylic Book Stand