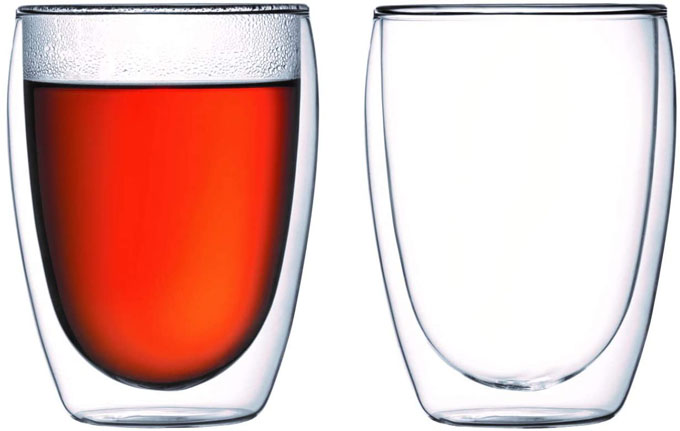 Hot/cold double-wall mug
I've tried those insulated stainless steel mugs for keeping coffee hot, but the coffee never tasted right — even though stainless is supposedly impervious. Recently, we discovered these wonderful insulated glasses made by Bodum, best known for its plunger coffee pots. They keep drinks hot, are cool to the touch, and are elegant looking. A latte made in one is rather spectacular, with layers of espresso and milk. There are a few sizes in the "Pilatus" collection, including glasses 6- and 4.75-inches high. Pricey, but high quality. Bodum's description:
"…a strong heat-resistant glass that weighs less than traditional glassware. Used to make scientific lab glass, borosilicate glass (medical grade glass) is stronger than traditional "soda-lime" glass…. Borosilicate glass substitutes boron oxide in place of the soda and lime used in traditional glassware. The boron oxide acts as a glue holding the silicate together and due to the small size of boron particles, the glass is held together tighter, resulting in a stronger glass."
I use the taller one every morning for fresh ginger tea.
04/2/21
( — editors)
Bodum Insulated Glassware