Tips
Book Freak 139: How to Tame Your Monkey Mind
Four pieces of advice from Jennifer Shannon's "Don't Feed the Monkey Mind"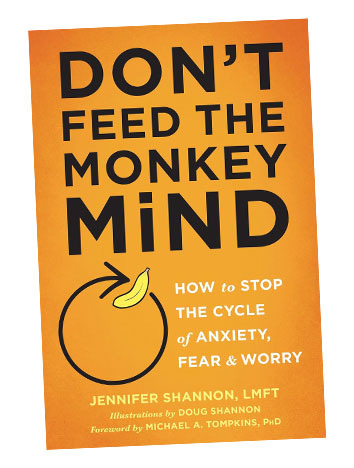 Get Don't Feed the Monkey Mind
Don't Feed the Monkey Mind: How to Stop the Cycle of Anxiety, Fear, and Worry by Jennifer Shannon, explains that anxiety is generated by the "monkey mind," which perceives threats and sounds alarms to try to keep us safe. This can lead to an ongoing "anxiety cycle" where we feed the monkey mind by using avoidance and resistance strategies in response to anxiety, which confirms the perception of threat and maintains the anxiety.
The book identifies three common "monkey mindsets" that underlie anxiety:
Intolerance of uncertainty: Believing we must be 100% certain of outcomes.
Perfectionism: Believing we cannot make mistakes.
Over-responsibility: Believing we are responsible for others' feelings.
To break the anxiety cycle, Shannon recommends replacing avoidance/resistance strategies with strategies that create new experiences to support an expanded mindset. She also encourages welcoming anxiety sensations and emotions rather than resisting them.
Here are four tips from the book:
Thank the monkey
When you get caught up in anxious, worrying thoughts, don't try to suppress or argue with them. Instead, just observe the thoughts and say "Thank you, monkey" to acknowledge them. This creates distance between you and the anxious thoughts.
Ask the monkey for more
When you feel anxious sensations or emotions, purposefully ask for more of them. Say things like, "Good, let me feel more numbness!" This shows your brain that you can handle the feelings.
Ignore the monkey
Practice making decisions according to your values rather than the monkey mind's focus on safety. For example, choosing an adventurous restaurant over your usual safe choice.
Befriend the monkey
Treat the monkey mind like an overprotective friend trying to keep you safe, rather than an enemy. Have compassion for its limited perspective.
09/26/23