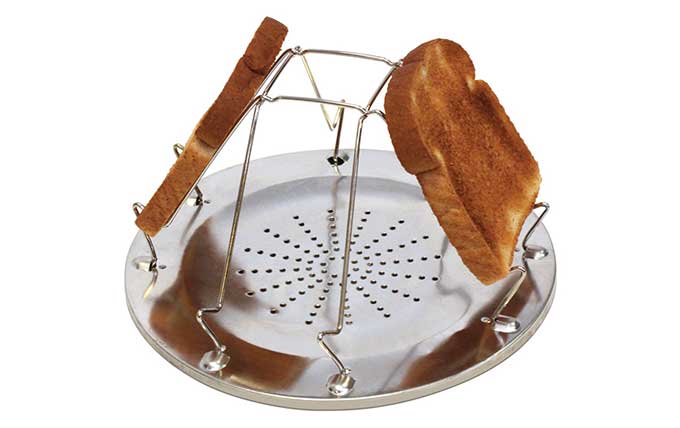 Toast up to 4 slices of bread at a time over a camp stove or small open flame
Although I am a bit envious of the well-designed Dualit toaster reviewed recently, I humbly offer my simple device from the other end of the appliance spectrum: The folding camping toaster ($7). No electrical cords to cause concern. No dials or digital read-outs. No brand-name. Toasts any thickness of bread beautifully, in a rustic sort of way.
Each side of the bread is individually heated, inviting you to actively participate in the toasting process. Your senses alert you when it is time to flip the toast. (Alternately, your kitchen smoke alarm lets you know if your bread has toasted beyond what might normally be considered an edible state.)
When the toast is removed, the recently-toasted side is warmer and delightfully suitable for buttering. Works great over a campfire, I assume, but we use ours on our gas stovetop. I cannot vouch for its functionality using an electric burner. Excitement ensues when a stray oat or raisin falls from the crust of the bread onto the heated surface.
We have had ours for at least a decade. Maintenance is usually do-it-yourself, and is comprised of poking the wire bread supports back into their metal sockets if they come out. Divinely simple and dirt cheap.
07/29/19
Stansport Folding Camp Stove Toaster ($7)