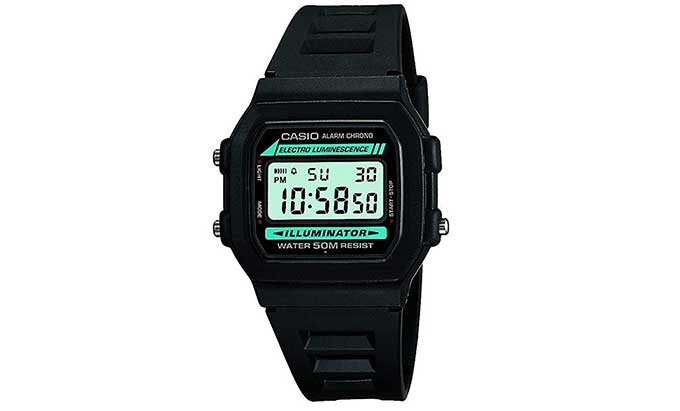 Best cheap watch
While the (in)famous $10 Casio F-91W may well be the world's most popular watch, for me it suffers a couple of fatal flaws. Firstly it is only water resistant, which means you can splash it when you wash your hands but you can't shower or swim while wearing it. Secondly the illumination on it is incredibly poor, unless you get the angle just right it's really hard to see the numbers when you are bleary eyed in the middle of the night. Of course the F-91W is cheap, and that is probably the reason for it's popularity however for just a small amount more you can own what I consider to be a far superior watch with no drawbacks.
The W-86 ($22) has the exact same features of the F-91W, it's also incredibly cheap but it offers a backlit screen that is super clear to read from almost any angle at a quick glance but isn't bright enough to dazzle at night. It is also waterproof, maybe not for diving, but you can wear it in the shower or go swimming with no fear.
It comes with the standard rubber strap, which is fine, myself I prefer a NATO style strap for comfort, ironically the strap costs almost as much as the watch. I've got nicer watches, I've got really rugged watches but the watch I wear the most is this one, especially when I travel as it's reliable, pretty tough, lightweight and most importantly of all I wouldn't lose any sleep if I lost it or broke it, I would just replace it, honestly I'd be more annoyed at losing my nicely broken in and comfy strap.
12/23/19
Casio #W86-1V Men's Standard 50M Chronograph Alarm Digital Watch with Luminous Light ($22)