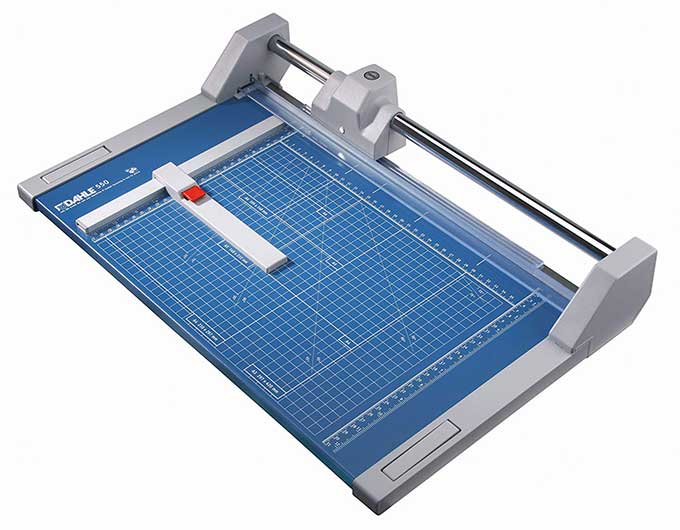 Self-sharpening paper cutter
Until a couple of years ago I had struggled with different inexpensive paper cutters, but I kept finding myself going to Kinko's and using the cutters there. Then I got smart and jotted down the brand name, Dahle 550 Rolling Trimmer Paper Cutter *$148), and bought one online.
What I appreciate most about this cutter is that I never have to change blades, or deal with dull blades, because it's self-sharpening. The steel rotary blade contained within the plastic safety housing moves across a stationary blade that extends the length of the cutting platform. This action hones the rotary blade, which remains constantly sharp. It's also set up for wall mounting, which is ideal in my home office layout.
One of the Dahle's downsides is that the plastic plate that holds the paper down got dinged up — keep away from kids — causing the blade to run off the track if I'm not careful. Also, the next one I buy will be a larger model: The 550 is meant to cut up to 14 1/8-inch paper, but it's awkward cutting anything over 8×10.
10/31/18
(I use a RotaTrim cutter with a similar functional design, from what I see of the Dahle. The self-sharpening blade feature means every cut is perfectly clean, after 6 years of often heavy use; cuts card stock and multiple sheets of thick photo paper. Painfully dull but illustrative video of the Dahle cutter here. -- es — editors)
Dahle 14-1/8-inch Cut Professional Series, 550, High Capacity Rolling Blade Rotary Trimmer ($148)