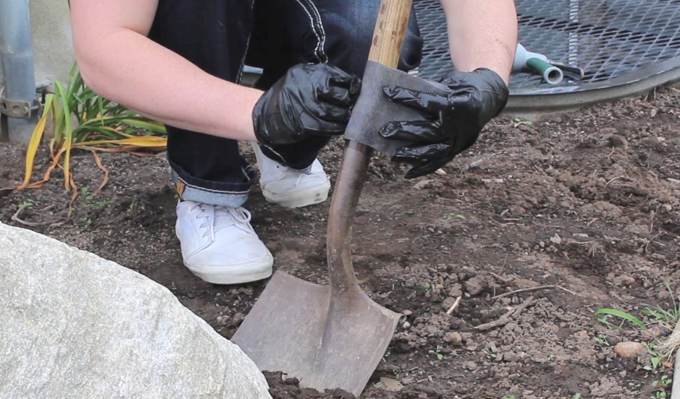 Fizes leaky pipes, broken tools, broken frames, fishing poles, tent poles, etc.
This stuff famously impressed the folks on Shark Tank enough to garner some investments. It's not different in principle from using fiberglass and resin to patch something, but it's a lot more convenient and tidier to use.
The package contains a little square of sandpaper to roughen up the surfaces a bit to enhance adhesion (although this is not addressed in the instructions and it's something fix-it beginners might not know), a nice durable pair of vinyl gloves to keep your hands from getting glued to your garden tools, a sealed foil package containing a roll of the actual product (comes in varying widths and slightly varying lengths, but most readily available in 4″ by 60″ in big home improvement chains, etc.), a strip of vinyl which can be optionally applied to the outside of the fix before it hardens, then removed to leave a smoother surface, and a simple set of instructions.
The fabric doesn't seem to be fiberglass, it appears to be some sort of polymer. The innovation here is the resin with which the repair tape is impregnated. The developers have managed to find something which is activated by exposure to water, hardens in minutes, is commendably sticky without being annoyingly hard to apply, and cures strong; all while being non-toxic (it says here). Thus, rather than trying to keep a wrap of fiberglass cloth tight with one hand while dabbing on resin with a drippy brush held in the other, you simply rip open the package, submerge the whole roll underwater for 15 seconds or so, then wrap it around what you want to fix. It grabs the substrate quite nicely and similarly grabs itself so that a nice solid repair is easy to make; 15 minutes later, it's ready to use.
I used it to fix a digging fork which I habitually abuse horribly, whose wooden handle broke off at the end of the metal ferrule. Previous fixes have used a 6″ black iron pipe coupling which happens to be of the correct inside diameter, but that always eventually fails because the slight taper of the ferrule works itself loose from the inside of the pipe, even when epoxied in place.
The FiberFix, however, molds itself to the taper of the ferrule and doesn't give it any wiggle room, in addition to adhering solidly to both the metal of the ferrule and the wood of the handle. When cured, the repair is now strong enough that I can't break it with my overly aggressive levering on the fork; I expect it to last at least as long as the pipe coupling repair, and it was a heck of a lot easier and quicker to do. I was so impressed I went out and got a second package and did a similar wrap on my shovel, even though the handle is not yet broken, as a precautionary measure. (They never make the ferrules on these things long enough for me).
The wrap is designed to be used all at once when opened; exposure to the humidity in the air will activate the resin, so you can't save half of it for next time. The package has a "best if used by" date approximately three years in the future; the package I used was purchased a year ago and has been sitting unopened on my shelf since then without any apparent degradation, so keeping a package around for emergency fixes of tools and returning them to service within half an hour without having to stop what you're doing to go shopping is feasible.
The manufacturer suggests it can be used to fix leaky pipes as well, but I haven't tried that yet.
10/13/20
(This is a Cool Tools Favorite from 2016 — editors)
FiberFix 4 Inch Repair Wrap