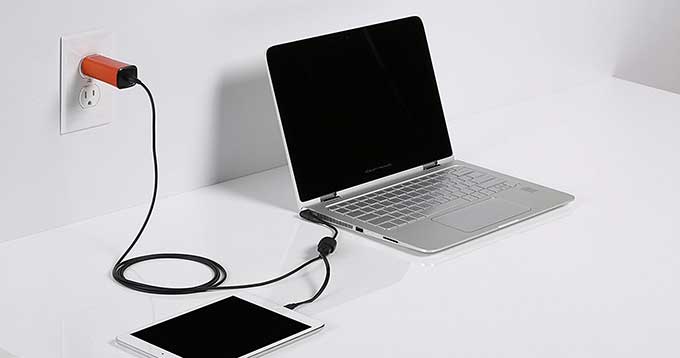 Smaller, lighter laptop charger
I'm a minimalist, but I try to have a standard set of items that always go with my laptop bag, so it's important to try to find the best, most flexible, lightweight gadgets and dongles for traveling.
The DART is a laptop charger whose "brick" is about half the size of most laptop chargers, and seems less dense to boot. It also has an integrated USB-A port to simultaneously charge your phone or other gadgets. This makes it a real spacesaver. The North American plug is ungrounded, meaning you don't have to find a three prong outlet to plug into. Like most chargers, it works on global electrical supplies, meaning you only need a small plug adapter (rather than a voltage converter) to use the DART abroad.
I got a FINSiX DART laptop charger ($65) for my macbook pro laptop as part of their kickstarter. Sadly, they no longer support apple magsafe as a charging option since the only way to do so was to buy and cannibalize an official apple charger for the tip, but they have tips for USB-C apple laptops as well as almost every other PC laptop. After using the charger for ages, I can say it has a few very minor weaknesses. When my laptop is hungry, it can't always provide full voltage to both the phone and the laptop, but the simple workaround is to plug the phone into the laptop rather than the DART. But on the whole, this item saves me weight I carry literally every single day, and is just as useful as the charger that came with my laptop (which now lives at home and doesn't need to live in my bag).
03/28/18
FINsix Dart Laptop Charger ($65)