Gardens
Full Circle Fresh Air Countertop Compost Collector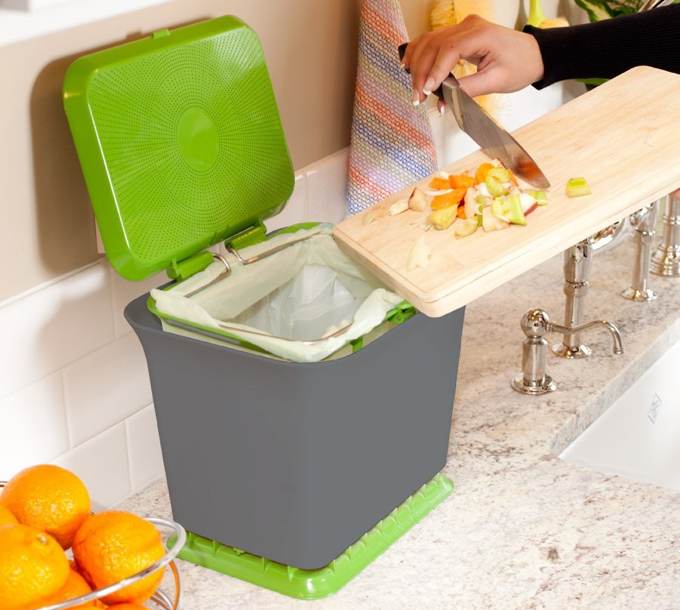 Allows oxygen to flow through organic kitchen waste, reducing odors
I've been composting my kitchen scraps for awhile now, using various systems, and this countertop compost bin, which I've been using for two years, is the best I've used so far.
There were two issues with other bins that I've used: 1) rottten vegetable residue on the bottom of the bin that must be cleaned out after it's emptied and 2) swarming fruit flies.
The Compost Collector solves both those problems. You line the bin with a compostable bag (I use BioBag 3-gallon size), then remove it when it gets full, leaving your compost bin nice and clean. It takes about a week for me to fill the bag, and I've seldom had problems with leak-through. If your bag does dissolve a bit (this can happen if your scraps are really soggy or if you let the bag sit way too long), the bin comes apart for easy cleaning.
This bin has good airflow, which slows down the decomposition of the veggie scraps, but the air goes in through tiny holes in the top which fruit flies can't get though as well as a gap at the bottom where air circulates around the bag. So as long as you remember to keep the top closed, fruit flies aren't an issue. In addition, it's not smelly like bins that have no airflow, unless you put something in it that's smelly to begin with.
The Compost Collector is also sturdy and good-looking, and doesn't take up too much space on the counter.
05/6/16
Full Circle Fresh Air Countertop Compost Collector ($23)