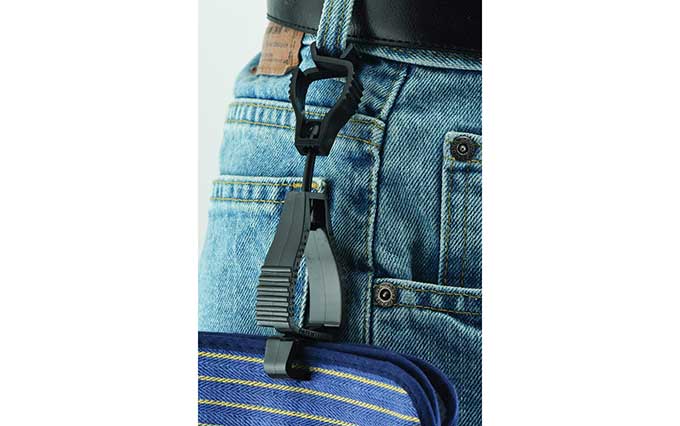 Tethered gloves
I work at a desk, so I don't often need work gloves. But I've been going to Burning Man for 18 years, and the alkali dust is murder on your hands. So I've been wearing leather work gloves on the playa for most of those 18 years.
The problem has always been keeping the gloves with me at all times. I've tried putting grommets in the gloves and clipping them with a carabiner, but this isn't as easy as it sounds and is a pain to do all over again when a glove gets lost or worn out.
Years ago I saw someone out there with a large battery-terminal clip holding his gloves, and I've been searching for a similar clip for years with no success. This year, though, I found these Glove Guards ($8).
I bought two of these and gave one to my girlfriend. We've only used them for a couple of weeks now, but that time in the whirl and bustle of Black Rock City have proved their worth to us both.
The clips have a "breakaway" feature, so that you won't be trapped if your gloves get caught in machinery or something. This caused me some worry when my gloves got caught in the truck door and seemed to break away too easily but the two pieces of the clip reconnected with ease, and have continued to hold firm ever since.
At less than $5 apiece, I can wholeheartedly recommend getting several if keeping your gloves handy is important to you.
11/1/18
(This is a Cool Tools Favorite from 2009 — editors)