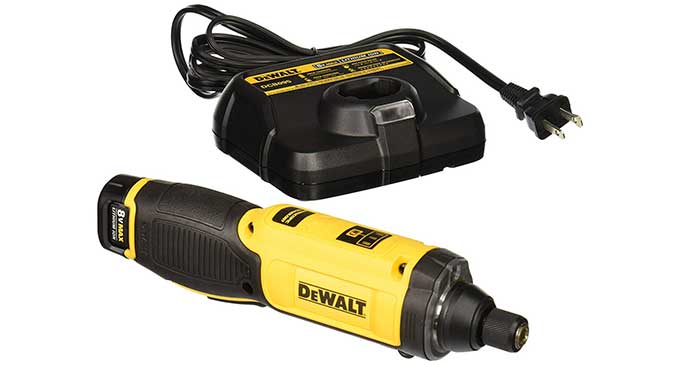 Controls torque and direction with your wrist motion
I love this Gyroscopic Inline Screwdriver ($69) — it's the Segway Scooter of screwdrivers. I purchased it a couple of years ago after a home inspector I was shadowing raved about it, and it is now my go-to tool for all screw driving/removal tasks, which are many as I'm renovating an old house.
It has great torque and, used with Dewalt's DW2055 magnetic bit tip holder ($6), which I nearly always do, it enables me to drive/remove screws/bolts in tight corners. I find the gyroscopic speed adjustment to be very useful. It has a trigger switch for on/off but no rotation direction, or speed switches. Rotate your wrist a bit to the right to drive screws and to the left to unscrew them, and the further you rotate your wrist, the faster it goes. For me, this is much more intuitive than it sounds and, because it provides fine-grained speed control, I find it very useful for quickly driving/removing screws while avoiding stripping screw heads and not over-driving.
A charge lasts quite a long time (typically between 100 to 200 screws, depending on depth/tightness) and a full recharge takes approximately an hour. It has a built-in 3-level LED charge indicator that illuminates whenever the on/off trigger is depressed — great for always knowing how much juice you have left. When the charge is running very low the torque is reduced but I've found that, if necessary, I can use this as a manual screwdriver to drive screws the last few turns. It has an automated LED light intended to illuminate the work area but I find this to be of limited use since the shadow of the tool itself prevents the working tip from being illuminated so, for low-light tasks, I use a headlamp.
07/15/19
Dewalt Gyroscopic Inline Screwdriver ($69)