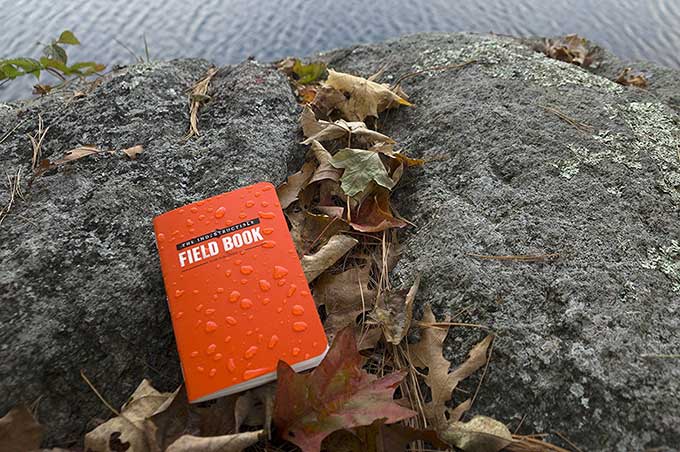 Waterproof, tearproof, weatherproof notebook
Like many Cool Tools readers, I have long carried a pocket notebook for quick notes and logs of conversations or information I don't want to forget. I used to carry Moleskines, but they were not really satisfactory for back-pocket carries and eventually fell apart. Though I liked their aesthetics, I shared a common complaint about the flimsiness and "bleediness" of their paper. My search for a durable pocket notebook is over. This "Indestructible Field Book" by Elan Publishing, a longtime maker of teacher's record books, lives up to its name. I will never be without one again. I am giving away any other spare pocket-sized notebooks. They are sized like other popular pocket notebooks, with ruled pages. But the synthetic paper, which is plastic coated with ink-receiving clay, is absolutely waterproof, smear-proof, and tear-proof. Back pockets hold no hazards for this tough tool.
Unlike the Rite-in-the-Rain notebooks, which use beeswax to achieve waterproofing, these don't require any special pens or pencils but can take any standard ball-point pen. I have good results with a Fisher Space Pen, but any standard ballpoint I have tried works fine. The one exception is gel pens; they will smear, so you will have to forego those crisp, color-intense gel lines.
A pack of four 48-page books is cheap enough to use for everyday note-taking and the same number of total pages as a Moleskine pocket notebook. So far as I've been able to discover, this model only comes in one distinctive bright orange color (Elan makes other "non-indestructible" notebooks as well).
I can't find information on the synthetic paper on the Elan site, but according to the online printing industry publication In-Plant Graphics, "Synthetic paper is a white matte plastic that is made from a mixture of polypropylene and polyethylene. It's either produced by die extrusion with a clay-coated finish, or clay-filled when being produced into a single-layered substrate by calendar extrusion. … All synthetic papers are 100% recyclable, moisture resistant, tear-resistant, and UV resistant, which helps keep them out of the waste stream longer than pulp paper. Unlike PVC-vinyl and polystyrene substrates, synthetic papers do not use chlorine, stearates, heavy metals, or any cancer-causing chemicals in their manufacturing process. Therefore, synthetic paper is considered more sustainable and environmentally friendly."
01/24/22
The Indestructible, Waterproof, Tearproof, Weatherproof Field Notebook, 4-pack