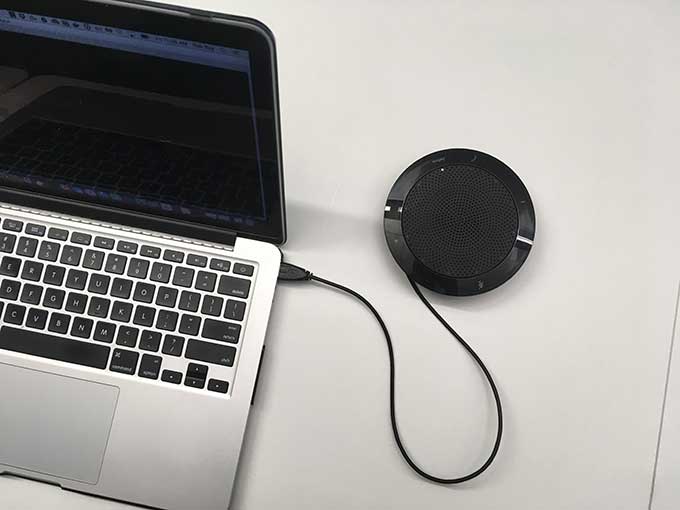 Speakerphone for Skype and other VoIP calls
I've been using the Jabra Speak 410 USB speakerphone for about 16 months. It has a number of benefits over using the built-in microphone on your laptop computer. The biggest benefit for me is the omni-directional microphones inside. You can throw this speakerphone in the middle of a medium-sized conference table or kitchen table and everyone's voice is picked up clearly. Because this device can be moved away from my laptop I can take type without everyone hearing my tapping on the keys. The sound quality coming from the speakers is also quite good. The device isn't a very large (approx 6″ wide by 1″ tall) but the sound is moderately loud and crisp. The device has tappable volume and mute controls so anyone speaking into the device can easily adjust the volume or mute the call.
I haven't used any other USB speakerphones but it is has been a superior replacement for my mobile phone and laptop mic as conferencing tools. I have not used this speakerphone in a noisy environment so I'm not sure how well it cancels out background sounds.
Note: This microphone only works over USB so it can't be connected to your mobile phone but Skype calls and other web-based conferencing systems such as UberConference or GoToMeeting work great. Jabra has is a newer model called the Speak 510. The 510 has bluetooth capabilities and has a built in battery. I have not tried this device. It costs $12 more but could be worth it if you'd like to use a device like this with your mobile phone.
10/18/17
Jabra Speak USB Speakerphone ($82)