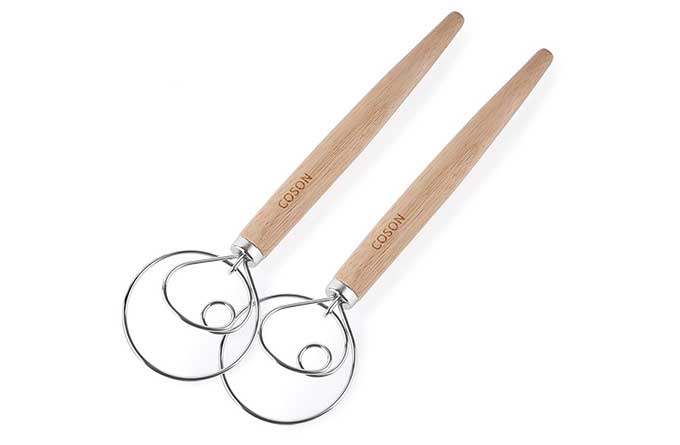 Wire dough mixer
I try to bake by hand as much by hand as possible because it's a nice contrast to working in front of a computer every day. But one part of baking I never used to enjoy was the mixing of the dough. At first, it gets all gummed up on the spoon or spatula. Then, once the dough comes together, it doesn't seem as if you're mixing the ingredients so much as pushing a big ball around the inside of the bowl.
For a year, I'd seen the dough whisk ($9 for 2) in the King Arthur catalog. I never ordered it because I thought the wire part looked a bit fragile. I finally decided to give one a try, figuring I'd send it back if I didn't like it. Well, I'm never sending it back.
The whisk's wire is extremely stiff. I've yet to encounter a dough it doesn't slice through with ease. I don't know how much thought went into designing the twists of the wire, but it's amazingly efficient at bringing dough together. When I made a double batch recently, I was worried I might have given the whisk more than it could handle. Nope. Mixing took no more effort than a smaller batch.
Clean-up is a breeze: Only a little bit of dough adheres to the wire, which is easy to dislodge with a wipe of the fingers. After that, it goes into the dishwasher.
So far, I have the large model, but I'm planning to buy the smaller one to use in smaller mixing bowls. I suspect that once I also have the smaller one, I'll never have to order another, unless it's for a gift. I've seen similar-looking whisks on Amazon for a few dollars less, but I don't know how well they're constructed. King Arthur's whisks have their logo on the wooden handles and feel very, very sturdy.
02/19/19
(This is a Cool Tools Favorite from 2010 — editors)
King Arthur Dough Whisk, 2-pack ($9)