Kitchen
KitchenAid 4.5-Qt. Classic Plus Stand Mixer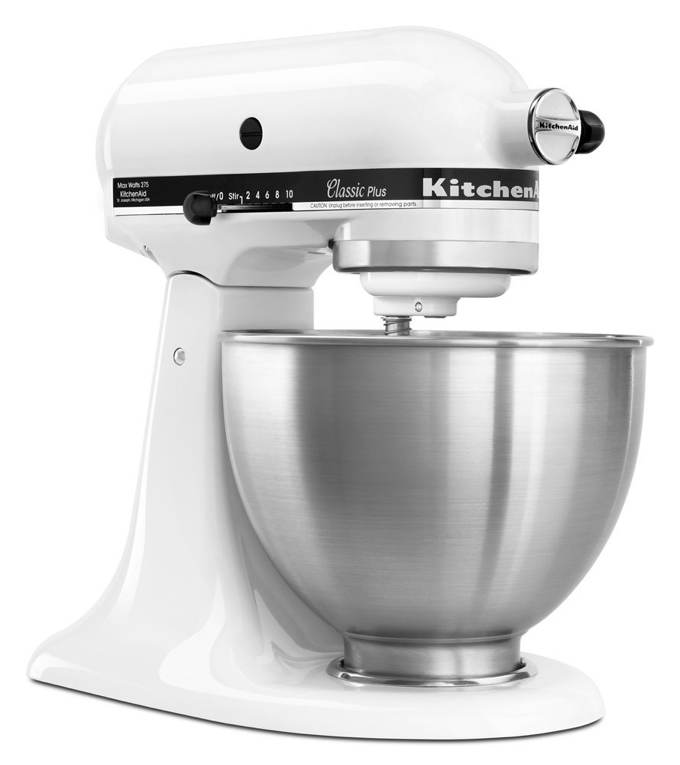 10 speeds to mix, knead and whip
I've used this "Classic" Kitchen Aid stand mixer twice a week for the last 30 years to bake bread and only this past week did I need to tighten a screw that was working its way loose.
This is the least ambitious model but is perfectly suited for breads, cake mixes and most any other baking or kitchen chore. It comes with a 4.5 quart mixing bowl (more than enough room for dough for two loaves of bread or a batch of dozens of chocolate chip cookies), a flat beater, a coated dough hook (the coating of which split and the hook had to be replaced), and a wire whip for whipping egg whites and making whipped cream. It comes with a 1-year warranty.
There are some 15 optional attachments such as a sausage maker, pasta maker, juicer, ice cream maker and many more. The hundreds of reviews on the KitchenAid web site are almost all 5's and Amazon's reviews match this. We've given this to many couples as a gift and it's a lifetime investment whether you putter around the kitchen or are a serious baker. I have the white model but there is a multitude of colors as well as finishes. And, if you want to spend more than $200 and get a larger capacity bowl and more powerful motor, you can bump up to the high end commercial series (>$1,000), but wait until you finish that culinary school course.
01/19/16