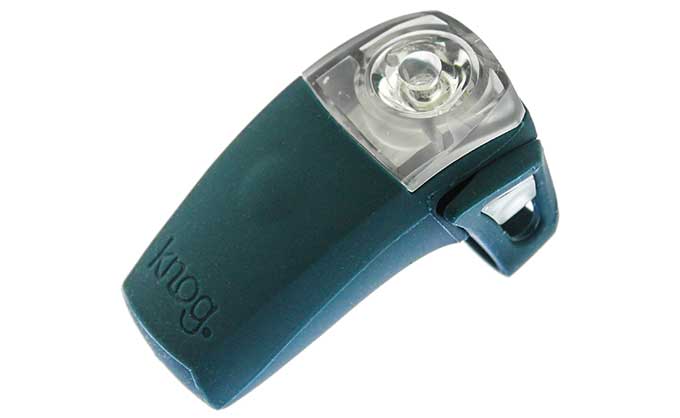 USB-rechargeable bike light
I have had countless bike lights stolen over the years. Part of this is due to forgetfulness, but also to the difficulty of quickly removing the light from the bike when I'm finished with my ride.
Knog lights have fixed this problem through the use of silicone cases. The stretchy silicone easily wraps around any bar on the bike, providing a secure, but flexible, attachment on even the bumpiest of roads. In the past, Knog has been criticized for producing lights that were were more ornamental than functional given their under-powered LEDs. However, the Knog Boomer ($15+) changes that.
Unlike previous Knog lights I've seen, the Boomer tail light is super bright. The three LEDs produce 15-lumens on their highest setting, which, while not significant compared to many high-end flashlights, is plenty for its intended use as a rear tail light.
The unit's battery life is respectable (12-hours flashing on full brightness) and is made even more palatable through the design's inclusion of a USB-port that allows for easy charging on any powered USB hub. It might seem strange to rely on a USB-port for charging, but the ubiquity of the interface has made it almost more commonplace than outlets (and even without an outlet you can substitute any iOS charger). Not only does my laptop have two, but my desktop monitor has six, while my external keyboard has another.


Being able to quickly charge my tail light means that it is more likely charged when I ride. Recently, however, my light ran out of juice on a bike ride to a friend's house. Not only did she not have spare batteries, but she didn't own a battery charger and so I would have been out-of-luck with most traditional non-wired lights. A quick plug-in to her computer meant that I had a charged light to get me home. While many may complain about the lack of versatility that is associated with using AAs or AAAs, the convenience of a built in charging unit has, for me, far outweighed the benefits of quickly being able to switch out batteries. For those less inclined to charge via USB, Knog makes a non-USB version.
At a time when I am riding my bike more than ever the Knog Boomer tail light has earned its place as one of my favorite bike accessories. It is representative of smart functional design that makes me more likely to be seen, and with any luck a bit safer while out riding.
06/6/19
(This is a Cool Tools Favorite from 2011 — editors)
Knog Boomer Tail Light- USB Rechargeable ($15+)