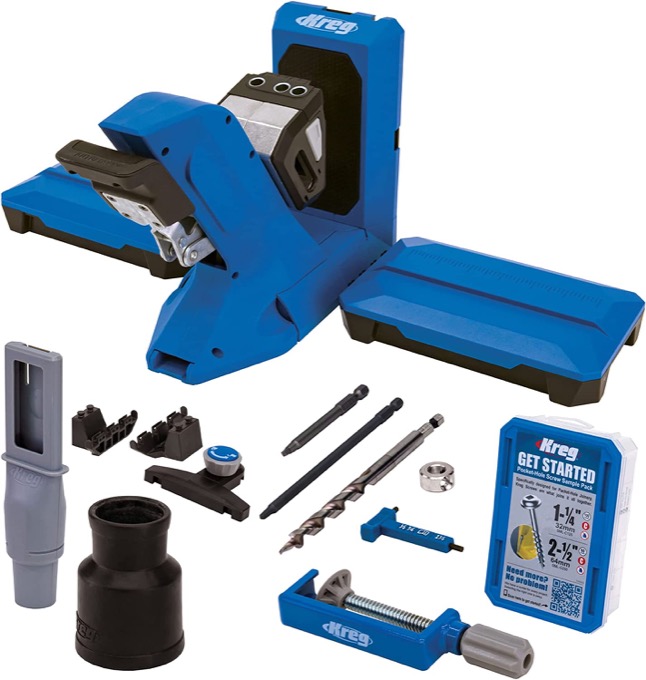 Creates pocket-hole joints in plywood from 1/2 to 1 1/2-inch thick
I bought this pocket-hole jig about a year ago and couldn't be happier. This has been my first venture into pocket-hole joints, and from the first time I used it, I wished I had utilized this method years ago on past projects.
It really has changed the number and type of projects I am able to tackle. For the uninitiated, pocket holes provide an easy and effective way to join wood, while also being able to hide the screws.
I love the beauty and craftsmanship of dovetails and other joinery, but pocket holes are fast and easy and perfect for a project that you don't wish to spend a ton of time on.
As far as the tool itself is concerned, I have yet to be disappointed by anything from Kreg. It is apparent that there is a lot of thought put into this jig. For example, there is a storage area on the back of the jig for the drill bit, driver bits (2), and thickness gauge, all of which come with the tool.
There is nothing worse than getting a new tool, setting it up, and attempting to use it, only to find that some vital component is "sold separately." Everything is included with this setup, including 160 pocket-hole screws. Finally, the jig does an excellent job of securely clamping the piece you are drilling.
02/23/23
Kreg Tool KPHJ720PRO Pocket-Hole Jig 720 PRO