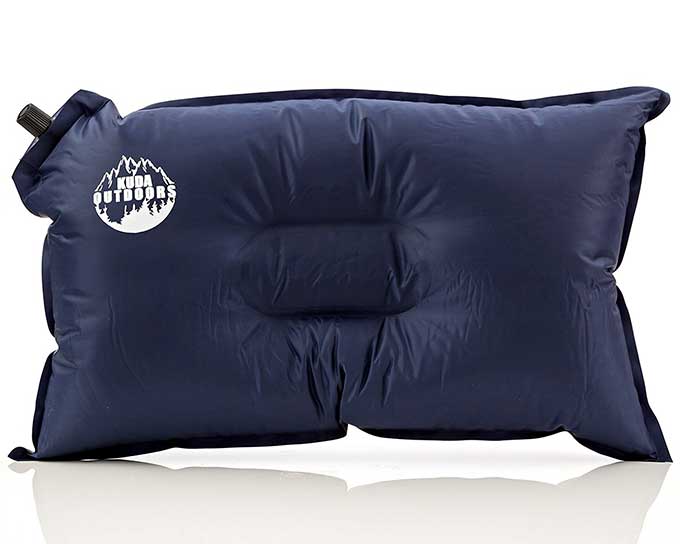 Lightweight contoured pillow
I travel several times a year to Latin America. When I stay at locally-owned hotels, more often than not the pillows feel like a bag of cement with a pillow case on them. Being a side-sleeper, I need to have my head at a certain height to be comfortable. After many frustrating trips of not sleeping well, I took a chance and bought a Kuda Outdoors Self Inflating Travel pillow. I wasn't impressed with how it looked when I bought it, but I decided to give it a chance. I took it on a trip, along with a flannel pillow case and used it the first night. When I woke up the in the middle of the night, I thought I had lost it. But there it was, on the bed, holding my head at just the right height. The next morning, I had forgotten that I had used it until I made the bed. I had found the perfect travel pillow! The pillow has a built-in depression in the center where your head rests. This keeps the pillow in place on the bed, and your head in place on the pillow.
It is very similar to the self-inflating camping mattresses, but much smaller. It has a valve in one corner that, when open, allows air to inflate the pillow. I have found that it is much quicker to blow the pillow up to the right level, rather than wait for it to self-inflate. I had to experiment with how much to inflate it to find the right comfort zone for my preference. I like it to be about 75% inflated because I sleep with a medium-firm pillow at home.
When it's time to pack up and go, I unscrew the valve, sit on the pillow until it is completely deflated, and then put the flat pillow on top of the rest of my things in the suitcase. It measures 19" x 12" x 3/4" when completely deflated, so it fits nicely in my carryon or backpack. It does come with a nice bag, but to keep it in the bag you have to roll it up. Personally, I find that storing it in the bag takes up more space than stowing it flat.
The only thing I didn't like about this pillow at first was that the material it is made of makes a bit of a "crinkling" noise when you lay your head on it. Putting a flannel pillow case on it got rid of that sound at first, and now that I've used it a lot the material has gotten "broken-in" and softer. If you travel a lot and find the hotel pillow "lottery" frustrating, I would recommend giving the Kuda Outdoors Self Inflating Travel Pillow a try!
05/8/17
Kuda Outdoors Self Inflating Travel Pillow for Outdoors ($14)