Aural
L-288AMBT Portable Radio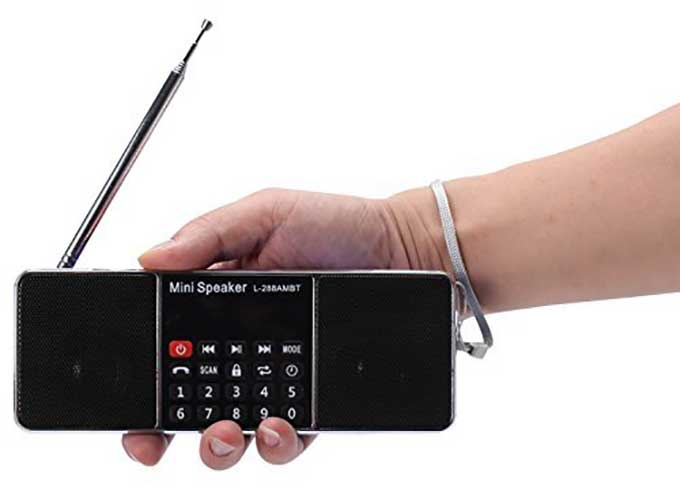 Feature packed inexpensive radio
I'm a radio fan: I don't have a TV and I enjoy the public radio news reports, more factual and less tainted, and I discover new music through the local radio stations, we even have some pirate stations sometimes. It's simple, autonomous and doesn't rely on an internet connection or precious smartphone battery.
Having heard my stepmother wasn't listening to the radio anymore, I wanted to offer one to her. Her daughter told me not to give her anything too important as she feared it would be soon taking the dust, so I bought a cheap one for 10€ on Amazon, with honorable reviews. It turns out it's a gem, with some limitations, but really neat nonetheless.
Build to cost as little as possible, it's not obviously pretty, but it's still good and small enough to not notice. The great things are the packed features: it's rechargeable with a standard USB outlet, so doesn't need disposable batteries, separate rechargeable cells or a specific charger, it's also an MP3 player for USB drives or MicroSD cards, a Bluetooth speaker and even has a microphone to work like a cellular speakerphone. Sound is perfectly decent and when at maximum could be heard in the next room, with no distortions.
The antenna is a real antenna, no a flimsy wire. For the radio stations memories, it scans all the spectrum and saves each after the previous one, so you can't choose memories but it's also easy to set up. The only bothersome thing is it wakes up not in the last used mode but in Bluetooth mode, and it says "the Bluetooth device is ready to pair" – it can be abbreviated by pushing the mode button immediately at wake-up.
I honestly hope my current radio dies so I can get one for me. It's available with multiple designations, often with "L-288AMBT" printed on the front, from multiple outlets like Amazon, eBay (starts at $15), banggood, dealextreme, aliexpress and so on.
01/18/19
Easycare Portable Mini AM FM Radio Clear Speaker Music Player ($23)