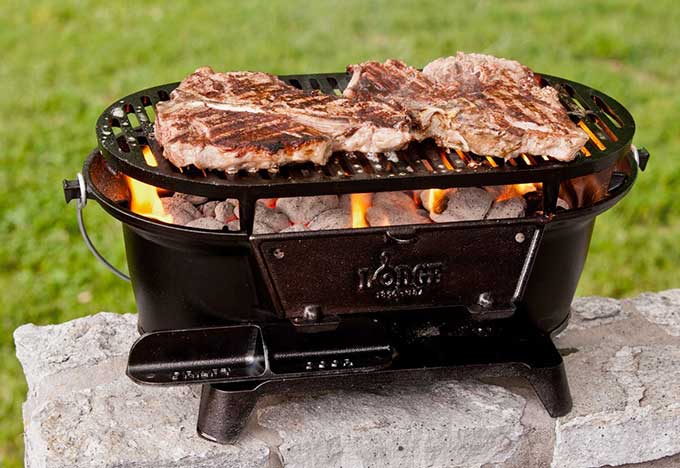 Classic, cast iron cooking
The first time I saw one of these finely crafted grills was on a ranch I visited back in the late '70s. They've changed very little over time: the one I have now that is a few years old is essentially the same as the first one I saw almost 30 years ago. Being cast iron, it absorbs and retains heat, radiating it evenly, so the whole stove is part of the heat source — not just the coals.
It's cast iron instead of stamped tin or steel, so it's heavy, but substantially built. And it's a hibachi, not a lidded grill, so it's not a smoker. It is small enough to put in the trunk or chuck box and take camping, or to use on the patio (about 20″ x 10″ x 9″ and the legs lift the bottom about 4 inches off the ground). But what I like best is it fits in the fireplace, so you can grill in wet or cold weather indoors.
It is lower in profile than most charcoal grills, but about twice as big as most hibachis. If you are cooking for 8 or more people, obviously it will stretch its capabilities, but for the two of us or when we have a couple of friends over for kabobs, it can't be beat. It is just about perfect for a couple or small family.
The grate you place the food on is not welded wire — it is cast iron like the rest, so the cross pieces are as wide as the slots in between. They hold food well, hold heat well, and when you sear your food, you can see the wide dark sears on the food. The grate is also strong enough to hold pots, pans, coffee pots, etc., — thus, it can function as a small stove.
There is a door that opens down on the front to add coals or help the dampers to adjust the heat. The damper doors adjust by sliding side to side so you can adjust the draft perfectly. The grill disassembles for cleaning. It's only four parts: the base with the front door, pin-hinged at the bottom, the top grate, the bottom grate, and the sliding damper.
Again, the lower grate the coals rest on is cast iron, so it won't burn out or warp over time. The whole grill is really well made. I burned out several imported hibachis before getting this grill. It should last a lifetime.
08/10/18
(This is a Cool Tools Favorite from 2007 — editors)
Lodge Hibachi Cast Iron Grill ($85)